1. Leipzig made media history in 1650, when it was the city where the very first newspaper was published. The work of Timotheus Ritzsch, a printer and book merchant who wanted to present the news of the day, Einkommende Zeitungen was published four days a week. No wonder that only one copy of this newspaper survived over the centuries.
2. About a third of Leipzig is green, with parks, natural reserves, gorgeus gardens. And Leipzig also means more bridges than Venice, no less than 457, as it is a city where three major rivers meet.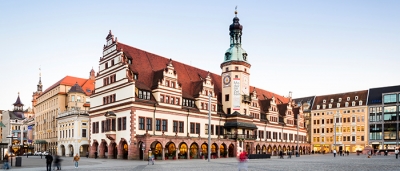 3. Fancy a beer? Why not drink one in one of Goethe's favourite places, the Auerbach's Cellar, a historical spot which has become nowadays of the most popular restaurants, in good measure due to this fact. It was here that the one and only Goethe came to eat and drink, to relax and meet some of the locals or firends, and it inspired the very scene when Faust meets Mephistopheles. Or you could visit the Zum Arabischen Coffee Baum, the oldest still functioning coffee house, with centuries of history.
4. Do you like to go to the zoo in the weekend? Or any other day of the week? Then you would be glad to know that Leipzig not only has one of the oldest zoos in the world, but also one of the richest when it comes to the variety of species. There is a special facility for anthropoids, you could visit a special space for lions, one for tigers, another one which reproduces an African savannah. And on and on.
5. Leipzig is also a capital of music. Johann Sebastian Bach was it's musical director, was a choirmaster, lived here for several years and is even buried here. And if you are fascinated by the life and compositions of one of the greatest musicians in history there is also the Bach Museum here. You could also attend a show at the Leipzig Opera or could see the Mendelssohn House, the residence of the legendary composer.
Photo: eurolines.de