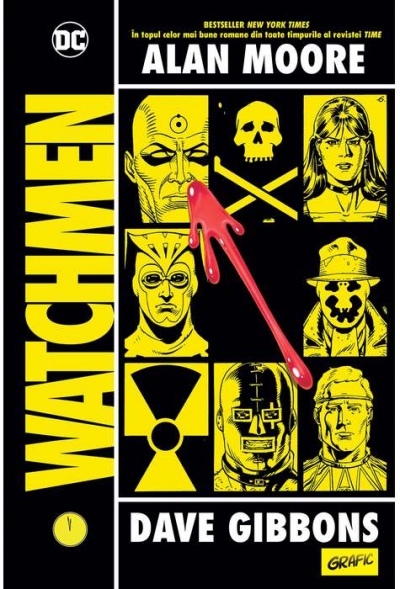 One of the most famous graphic novels of all times, Watchmen, was finally published for the very first time in a Romanian translation, marking a real event for the fans of the genre. But having Watchmen in Romanian in your collection - something that surely not many would have thought possible some years ago - is a great sign for the future of the genre in Romania, and maybe more and more of the famous titles will someday soon have also a Romanian edition. Besides
Watchmen
the same publishing house (Art) also released the Romanian version of
V For Vendetta
, another influential and wellknown title, itself better known to the general public because of the movie version (starring Natalie Portman).
The same is surely true for
Watchmen
, no matter what controversies and heated discussions (especially online) the 2009 movie which was directed by Zack Snyder might have caused. Some have loved the movie, others hated it, but a large number of those who hadn't read the original graphic novel went ahead and bought it. And surely were at least impressed, if not enraptured. Some think that Watchmen is the best that the famous Alan Moore ever created, but even if you don't agree with that it is surely and by far one of the best graphic novels ever published.
Depicting an alternate history, in which superheroes are a normal thing and often act and intervene in everyday history and life,
Watchmen
is rather far away from what the "average Joe" might think about comics, that is the hero always wins and the bad guys always lose in the end. It is darker, grittier, filled with drama and with such a huge narrative strength that it is no wonder that so far Watchmen sold millions of copies. So get yours today, no matter the year, language or if it is hardcover or softcover. And treat yourself to a great story. Who knows, it might be the start of a future collection of graphic novels.