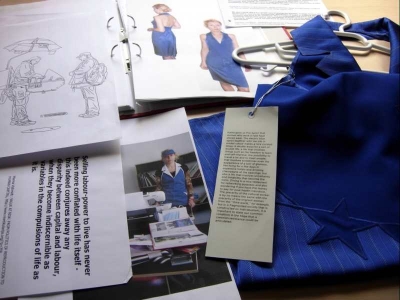 Timisoara's h.arta group takes over Ludlow 38 with a feminist exploration, EVERYDAY FRAGMENTS

November 2 - December 11/ MINI/Goethe-Institut Curatorial Residencies Ludlow 38

Opening on November 2nd at Lower East Side's cultural hotspot Ludlow 38, "Everyday Fragments" is the first solo U.S. exhibition by the Timisoara-based collective h.arta group (Maria Crista, Anca Gyemant and Rodica Tache). Their daring New York project, supported by the Romanian Cultural Institute in New York, explores issues such as "What does it mean to be a feminist in the context of global capitalism?" Using mixed artistic means (texts, drawings, photography, video and objects) the exhibition reflects on the possibility to affirm a multi-faceted feminist position in collaborative art by connecting theory to everyday practices. "Everyday Fragments" is based on two previous projects by h.arta group ("The Most Beautiful Day of My Life" & "Inspired by Life") and on a new work called "Parallel Readings" (2011), produced in collaboration with Montreal-based writer Jen Kennedy and New York-based artist Liz Linden. This new work is the result of an ongoing e-mail exchange of images, articles and advertisements taken from mainstream women's magazines in Romania and North America.
WED, Nov 2, 6-8 pm: EXHIBITION OPENING
SAT, Nov 5, 1 pm: Ludlow 38 will host an informal, playful event related to "Parallel Readings" in which visitors will be invited to discuss how different historical legacies (state feminism in Romania of the 1950s and '60s and the social movements in North America around the same time) led to similar globalized post-feminist stances in the mainstream media.
MINI/Goethe-Institut Curatorial Residencies Ludlow 38
38 Ludlow St. (bet. Grand and Hester), NYC
Gallery hours: Thursday-Sunday 1-6 pm
FREE ADMISSION

November 2011