1. Georgia O'Keeffe is nowadays famous mainly for her wonderful paintings depicting colourful, enlarged, mystical flowers, yet maybe even some of her greatest do not know that her studio... wasn't a real studio. In fact this original artist preffered to work in such a cramped and enclosed environement that it might seem like a joke. O'Keeffe didn't need a large, airy room, with huge windows and lots of sunlight, maybe opening to the seaside or snowy mountains, not even a studio in a busy city or the countryside. She actually used a car, a Ford Model-A for her studio. And it wasn't some custom design, just one you could buy in any dealership. There were some alterations of course: first the driver's seat was removed, then the passenger's seat from the back was also removed, then put back in reverse, so it faced the back. Then it was simply a matter of putting the future work of art on the back seat and use the passenger one as an artist's chair. Original and bizarre, by all means.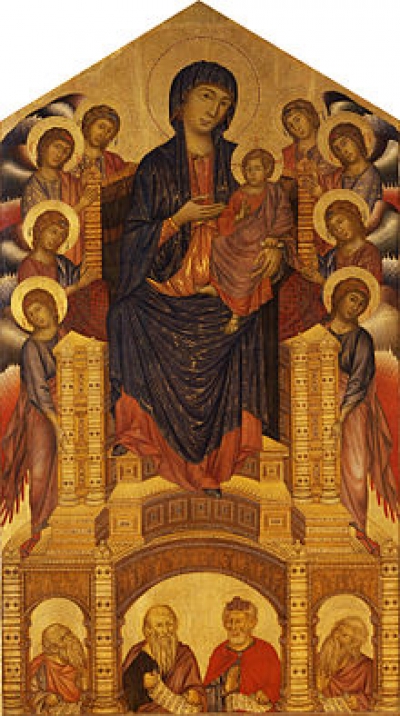 2. We know little today about Cimabue (1240 - 1302), a painter and a master designer of mosaics who was born in Florence, and might have been Giotto's teacher (although nowadays most art historians think of this as being only a legend). But while there isn't much about his life his works have survived over the centuries, and is now famous mostly for his religious mosaics, but essentially a legend in art history for being the first "great artist" to breakaway from the mandatory (at that time) Byzantine style and offering patrons and art lovers something different. Something new. Something original. Respected in his time and rediscovered with enthusiasm over the centuries, Cimabue is still one of those artists whose works are better known than their name. While he is famous for his mosaics, he also made several frescoes, yet few of these remain. One of the reasons was that Cimabue often destroyed his work, no matter how good it was, if someone could point to him an error or defect that he had missed. Talk about self-criticism.
3. Frida Kahlo was not just a brilliant artist (however controversial in her time) but also a highly original individual, especially for the morals of her time. For example she was born and died in the same house, now a museum dedicated to her life and work. She started painting after an accident which crippled and nearly killed her, yet somehow inspired Frida Kahlo to begin working in an original style. She attended her very first solo exhibition in Mexico, but due to her illness she arrived there in an ambulance.
Photo: artsy.net, wikipedia.org,