According to local stories, this splendid and savage place near Gorje, about 65 km from Ljubljana, was actually discovered at the end of the 19th century by the Mayor of Gorje and a local cartographer and photographer. So it was Jakob Zumer and Benedikt Lergetporer who first saw the natural beauty of the place, and one can only wonder what the place looked like then. It was unsuited for tourism, but with a lot of hard work it was arranged and soon, due to the development of the whole region, would become one of the best and most popular tourist sights in Slovenia.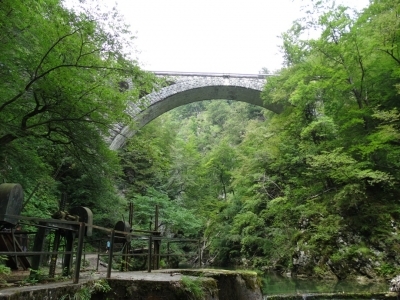 While the walls of this canyon are a most impressive sight, their height ranging from 50 to 100 meters, the Rodovna river has made it's way through earth and stone over time and has created a beautiful and memorable place, and for those who want to visit it there is a portion of about one and a half kilometers ready to be visited. And it is not only the river but also several waterfalls, ending with the unforgetable natural waterfall Sum, 13 meters height. It is, as those who love this place already know, the largest Slovenian waterfall on a river, a record which seems fitted for the Vintgar Gorge.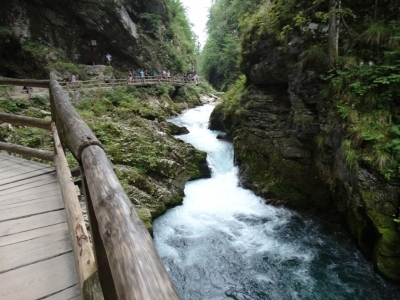 Those who came here more than a century ago certainly couldn't see all that the nowadays tourist can enjoy. For example, the very first bridge over the Sum was only built in 1878, and it was in 1893 that the Vintgar Gorge finally had several wooden bridges, well placed between the stone walls, and the official and expected opening of the Natural Park was on August 26th. But one of the best and most difficult projects was without a doubt the stone railway bridge, completed in 1905, the largest Slovenian arched stone bridge, still working after all those years.
This is a popular sight and attraction especially during the spring and summer months, but many also come at the end of the year, till November if the weather is not very snowy or cold. And you can visit in the same region the Bled Castle, so there is a lot to see.
Photo: artline.ro