The Romanian Cultural Institute in New York presents
THE WINDOW
New Dates Added for the Site Specific performance in our Storefront Gallery on Third Avenue: June 5-7 & June 12-18, 8.30-10pm
No performance on SUN, June 17!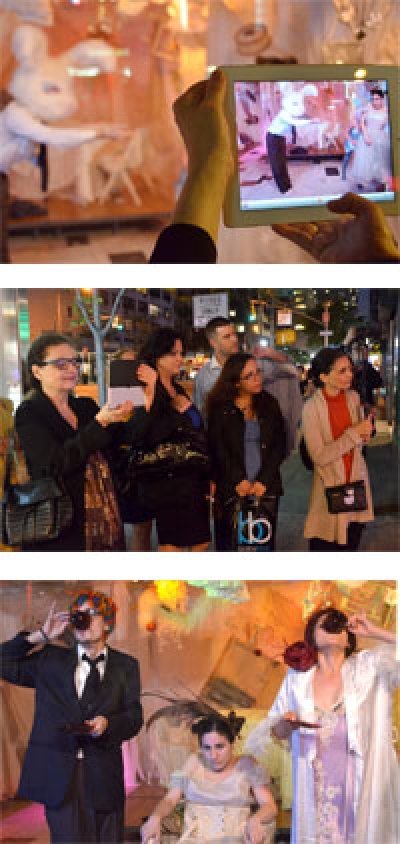 "Forget Broadway, this is the hottest show in town and you don't need to buy a ticket." (Arte Fuse)

"The second installment of The Window [...] is without a doubt, a unique theatrical experience, unlike anything you have ever seen in NYC." (Monica Suma, Examiner.com)
"Imagine if you had four chances to play out a pivotal moment, hitting "Rewind" and starting again, with a different approach. Now imagine it all unfolds in a dreamscape." (Olivia Jane Smith, NY Theatre Review)


The Romanian Cultural Institute in New York is pleased to announce new performance dates this June for the second installment of THE WINDOW, a site specific performance developed and directed by Romanian-born, New York-based director, Ana Margineanu, and conceived as a Romanian-American collaboration with acclaimed US-based artists.
After opening to excellent reviews and enchanting thousands of passersby during its initial eight-day run May 23 through 29, The Window 2will extend June 5 through 7 as well as June 12 through 18, every 20 minutes from 8:30 pm to 10:00 pm each evening except June 17 when there is no performance. The site-specific project unfolds in RCINY's storefront gallery window (573 – 577 Third Avenue at the corner of 38th Street), which has been richly reimagined by famed Romanian scenic visual artist Daniela Codarcea Kamiliotis, who has worked in theater, film and fashion, and for the past 17 years as VP for Ralph Lauren Women's Collection. New York Theatre Review raved, "Daniela Codarcea Kamiliotis did the marvelous set designs, and Stephen Arnold supplied just the right touch with the lights, keeping things in a lush half-light without becoming dim." Kamiliotis also designed the stunning costumes and props.
The second installation of The Window, entitled 4 ALICE, is loosely inspired by Lewis Carroll's famed tale. The short play 4 ALICE was written by award-winning Romanian playwright Saviana Stanescu, who was awarded the 2007 New York Innovative Theatre Award for Outstanding Full-length Script for Waxing West. Randy Gener notes, "4 ALICE trades on our familiarity with Carroll's famous childhood fairytale to convey something else: a strange, off-the-hook, visual wonderland riff that owes more to Ibsen and feminism than it does to Carroll's fixation with girls."
Ana Margineanu, "one ofNew York's reigning queens of hyper-intimate one-shot-only conceptually based theater" according to Randy Gener, conceived the project, which premiered with its first installation, written by Samuel D. Hunter and designed by Nic Ularu, in April. Margineanu has broad experience in directing shows that offer audiences unforgettable, immersive experiences, in Romania, Mexico and New York. She has directed both installations of project.
Join us from June 5 -18 to see The Window come alive again every 20 minutes between 8.30-10 pm. FREE.
READ MORE


Photos: GODLIS for the Romanian Cultural Institute in New York