Being one of the most impressive and also one of the tallest (even if not as well known as it should be) waterfalls of Romania, and surely a sight to behold and a tourist attraction to remember, the Horses' Waterfall in Maramures can be found in the Rodna Mountains, about three kilometers from the Borsa Tourist Complex. And according to local traditions the unusual names comes from a real happening, centuries ago, when the attack of a fierce bear so frightened several horses that they chose to simply leap down the waterfall, about a hundred meters to the ground. A sad story.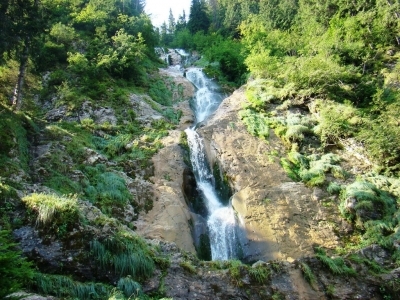 You can find the Horses' Waterfall in the Piatra Rea Natural Reserve, at about 1300 meters of altitude, and in the beginning the water actually forms a glacial lake, then simply falls down to the ground on the calcareous wall, where the stone and water have over time simply carved steps, large a huge and impossible to climb stair to the sky. It is a place to visit both in the summer months and at winter time, when the waterfall freezes and offers an unforgetable sight. It is the same waters that upstream form a canyon with another smaller waterfalls, nine to be more precise, ranging from five to 50 meters high. Ten waterfalls, known as the Horses' Canyon (again the legend of the horses), and a very difficult place even for the most experienced climbers.
And the Horses' Waterfall in Maramures may be the talles Romanian waterfall, as it's height is about 100 meters, yet there is another waterfall, the Cociu or Roset in the Mehedinti Mountains, which has according to several measurements about 120 meters.
Photo: cunoastelumea.ro