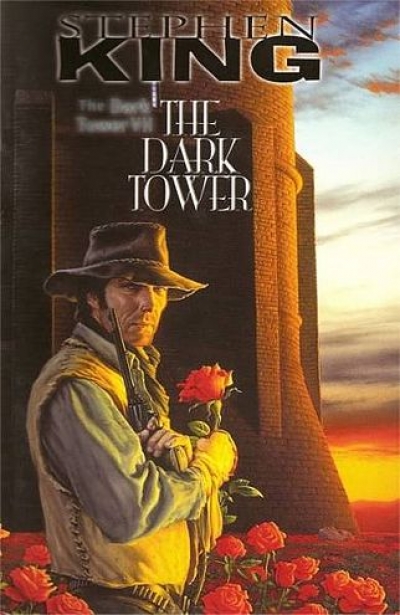 With eight novels (some of them massive) in the series, comics, an online game called Discordia, a novella (included in the Everything's Eventual collection) a recent movie and several future projects, the
Dark Tower
saga is considered by many King fans and critics alike to be the popular writer's magnum opus. While the very first part of the saga,
The Gunslinger
- which has gained over the decades an iconic status in the King macroverse - was released all the way in 1982, fans had to wait for literally dozens of years before seeing how the story ended, as the seventh part of the saga,
The Dark Tower
, was released in 2004. And it wasn't actually the end for Roland Deschain and his companions, as well as his enemies, for in 2012 another novel in the Dark Tower seemingly unfinished story was published,
The Wind Through the Keyhole
. Received as a huge surprise by Stephen King's fans, it was (according to the author himself) a story which took place between the fourth and the fifth parts of the original series, thus making the connection between
Wizard and Glass
(1997) and
Wolves of the Calla
(2003).
And while many fans thought that this was the final chapter, many more hoped and even talked online about the possibility for King to someday write and publish another novel about the Dark Tower universe, and often some hardcore admirer of King swore that he had information (certain information even) that such a book is in the works, and more info would appear soon. As King himself remembered several times, the Dark Tower novels had some truly enthusiastic readers, who often sent him letters and e-mails regarding the saga, strange and twisted gifts, and several times even threats.
But the huge news is that recently, during a
Sleeping Beauties
promotion tour (the book that King has written together with his son, Owen, soon to hit the stands), King said that it is possible in the future to write another Dark Tower book. Or to quote King "Yes, I think that might happen." It is just a vague promise, but who knows, maybe the master of horror, as he is considered, will once again return to the world of the Dark Tower, Roland and the Crimson King. Even if the first movie was largely a miss, both for fans and critics, and the future of the TV series is uncertain. But another Dark Tower book sounds really good.
Photo: wikipedia.org