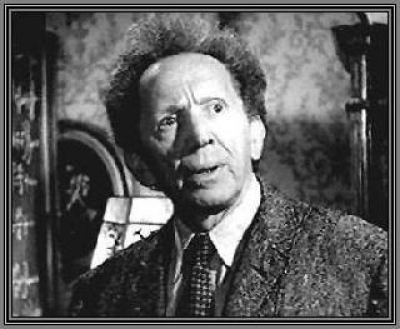 photo: http://www.seligman.org.il/Sam%20Jaffe.jpg
Biography
Sam Jaffe (1891-1984)
Sam Jaffe (born March 8, 1891 - March 24, 1984) was an American actor who was blacklisted by the Hollywood movie studio bosses in the 1950s.
Born to a Jewish family in New York City, New York, as a child, he appeared in Yiddish theater productions with his mother who was a prominent actress. He studied engineering at Columbia University and then worked for several years as a math teacher before turning to acting as a career. He began to work in film in 1934 and continued throughout the rest of his life. In 1951 he was nominated for the Academy Award for Best Supporting Actor for his performance in The Asphalt Jungle.
Jaffe co-starred in the American TV series Ben Casey as Dr. David Zorba from 1961 to 1965 and had many guest starring roles on other series.
Widowed since 1941, in 1956 he married actress Bettye Ackerman, who later also starred with him in Ben Casey.
Sam Jaffe died of cancer in Beverly Hills, California and was interred in Eden Memorial Park in Mission Hills, California.
Partial filmography
Nothing Lasts Forever (1984)
Rio Abajo (1984)
Battle Beyond the Stars (1980)
Gideon's Trumpet (TV, 1980)
QB VII (TV, 1974)
Saba of Sonora (TV, 1973)
Ghost Story (TV, 1972)
Enemies (TV, 1971)
The Tell-Tale Heart (1971)
Bedknobs and Broomsticks (1971)
The Old Man Who Cried Wolf (TV, 1970)
Quarantined (TV, 1970)
The Dunwich Horror (1970)
The Great Bank Robbery (1969)
Guns for San Sebastian (1969)
Tarzan's Jungle Rebellion (1967)
A Guide for the Married Man (1967)
Ben Casey (TV series, 1961-1965)
Ben Hur (1959)
The Barbarian and the Geisha (1958)
The Spies (1957)
The Day the Earth Stood Still (1951)
I Can Get It for You Wholesale (1951)
Under the Gun (1951)
The Asphalt Jungle (1950)
Rope of Sand (1949)
The Accused (1949)
Gentleman's Agreement (1947)
13 Rue Madeleine (1947)
Gunga Din (1939)
Lost Horizon (1937)
We Live Again (1934)
The Scarlet Empress (1934)