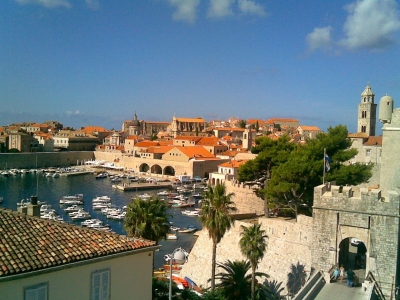 Dubrovnik
is a city on the Dalmatian Coast. It is an excellent starting point for exploring southern Adriatic coast primarily Elaphite islands, Korcula, Peljesac and Mljet. Once you visit and experience the beauty of the coastline and the genuine hospitality of the locals you will want to return time and time again.
The
'Pearl of the Adriatic
' became an important Mediterranean sea power from the 13th century onwards. In the Middle Ages it became the only city-state in the Adriatic to rival Venice. Although severely damaged by an earthquake in 1667, Dubrovnik managed to preserve its beautiful Gothic, Renaissance and Baroque churches, monasteries, palaces and fountains.
The Old Town can be comparatively difficult to navigate on first appearances, as it really is a warren of little streets. The city is completely pedestrianised and easily small enough to get around on foot, some of the streets are a little steep though. There are numerous restaurants to cater for all tastes. If you are travelling with a family there is the option to stay in the self-catering residences.
The city boasts of many old buildings, such as the Arboretum Trsteno, the oldest arboretum in the world, dating back to before 1492. A feature of
Dubrovnik
is its walls that run almost 2 km around the city. The walls run from four to six metres thick on the landward side but are much thinner on the seaward side. The system of turrets and towers were intended to protect the vulnerable city.
One of the larger churches in city is named after Saint Blaise. February 3 is the feast of
Sveti Vlaho
(Saint Blaise), who is the city's patron saint. Every year the city of Dubrovnik celebrates the holiday with Mass, parades, and festivities that last for several days. Also, the third oldest European pharmacy is located in the city, which dates back to 1317 (and is the only one still in operation today). It is located at Little Brothers monastery in Dubrovnik. In 1979, the city of Dubrovnik joined the UNESCO list of World Heritage Sites.
July 19, 2013
Photo source: wikipedia.org
I. C.
editor artline.ro