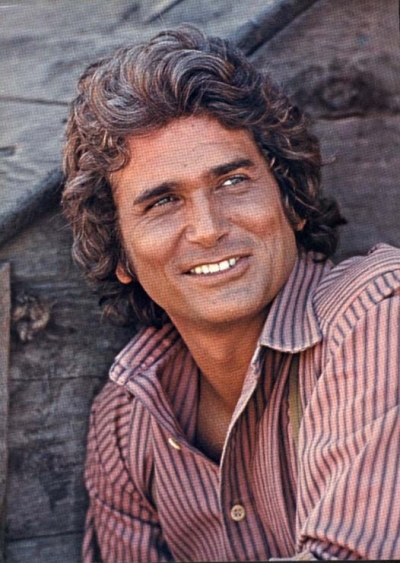 Biography
Early life
Born Eugene Maurice Orowitz in the Queens suburban area of Forest Hills, New York, he and his family moved to Collingswood, New Jersey in 1941, where his father accepted a job in working at the eater, while his mother became a popular comedienne of the 1940s. It was at the time while watching the 1949 movie Samson and Delilah that his own obsession with the long hair became his fantasy. During his teens, he never had that kind of hair up until he was getting older.
In high school, Orowitz excelled at track, especially with the javelin. He earned an athletic scholarship to USC but could no longer attend after tearing a ligament in his arm. At this point, he started taking small roles and bit parts, but decided his birth name was not appropriate for an aspiring actor, so he changed his name to Michael Landon. He decided on the name by picking it out of a Los Angeles phone book.
Career
Landon was discovered by producer Herman Cohen, who cast the young man in his first big role as teenager Tony Rivers in the feature film I Was a Teenage Werewolf (1957). Landon also gained exposure as Tom Dooley in the western The Legend of Tom Dooley (1959).
Landon as Charles Ingalls on the long-running Little House On The Prairie
That same year, he started starring in the then-new TV series Bonanza as Little Joe, the youngest brother in the Cartwright family and always a ladies man. Late in the series, Landon asked for permission to direct a few episodes of the series, which was granted. The show ran for 14 years, from 1959 to 1973, a total of 461 episodes.
Soon after the cancellation of Bonanza, Landon started a new project in 1974, a television film called Little House on the Prairie based on the popular book by Laura Ingalls Wilder. Little House would later develop into a television series. He not only starred in the show as the patriarch Charles Ingalls, but served as the producer, writer, director, and executive producer. He served mostly in these capacities for the series' eight years, which ended in 1982.
In 1984, Landon began his role in Highway to Heaven as Jonathan Smith, an angel who tried to save people by helping them turn their lives around. When his friend and co-star, Victor French, died of lung cancer in 1989, Landon cancelled the series.
Landon had produced all three of his series for NBC, but after ending Highway, he was let go. He then went to CBS and in 1991 starred in a two hour pilot called Us. This was meant to be another series for Landon, but he was soon diagnosed with pancreatic cancer that had spread to his liver. Landon's last public appearance was on The Tonight Show with Johnny Carson in May 1991.
A few weeks later, Landon passed away in Malibu, California with his family, children and colleagues by his side. He was interred in the Hillside Memorial Park Cemetery in Culver City, California.
For his contribution to the television industry, Michael Landon has a star on the Hollywood Walk of Fame at 1500 N. Vine Street. In 1998, he was inducted posthumously into the Western Performers Hall of Fame at the National Cowboy & Western Heritage Museum in Oklahoma City.
Family
Landon as Jonathan Smith on Highway to Heaven
Landon was married three times. His first wife was Dodie Frasier, a legal secretary who was six years his senior. He adopted her son, Mark and together they adopted another boy. A few years later in 1962, he divorced Dodie to marry (Marjorie) Lynn Noe, a model, who had a young daughter from a previous marriage. Landon treated Noe's daughter like his own child, and he had four more children with Lynn. Landon later began an affair with Cindy Clerico, a makeup artist and stand-in on Little House. Clerico was 21 years his junior. They married in 1983 and had two children, Jennifer (born in 1983) and Sean (born in 1986). (Jennifer has starred as Gwen Norbeck on the soap opera As the World Turns since 2005.)
His co-star on Little House, Melissa Gilbert, named her son, Michael Garrett Boxleitner (1995), after Landon.