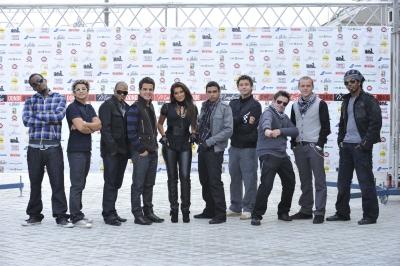 - Mandinga band has become, in just three years, one of the best known and popular local music projects and a genuine promoter of Latin American music in Romania. Called La Orquesta de Salsa, currently Mandinga brings together 10 multivalent artists, with an excellent live prestation. Music Mandinga already surpassed the country's borders - the band performed in Europe (Hannover, Belgrade, Sofia) supported a study tour to Cuba and prepared for special performances at major festivals in the world of salsa. On 25 May 2006 the band is invited to sing at the Palace Hall in Bucharest, in the opening of a concert supported by prestigious Cuban artists from the Havana Lounge.
Mandinga bases were released in early 2003 when the project included five members and was focus on Latin jazz. Step by step, Mandinga team rose like the performance art, including steps to count: Rafaga opening recital in Bucharest (2003), hosting the show's permanent musical
A real man
(Home TV), album "The Corazon (2003) and
My Sun
(2005), a special concert in the Europe Top Hits - Callatis Festival (2005), participation as a special guest star of the Fanta Fiesta Salsa Festival (Bulgaria, 2005), establishment of the Cultural Association Mandinga (2005) and last but not least hit show
Mandinga & Friends
staged at Bulandra (2005).
The bold trajectory followed by Mandinga has targeted international recognition, something the artists have decided to achieve the full professional involvement. At the invitation of prestigious percussionist Luis Conte and Sarracent Julio Montesino (descendant of West African tribe Mandinga), Mandinga band earlier this year undertook a three week study tour to Cuba (among teachers like Lazaro Amaouri Ouiebo Dibut from Buenavista Social Club, Sergio and Antonio Martinez Carreras Portuando from Haile & All Stars of Cuba, Samuel Formell from Los Van Van).
Mark Cuban experience and inspiration, Mandinga returned to Romania with a new concept and show band based on a mature style and a larger number of performers. Thus, the component has changed and expanded, becoming international, exotic and very well received: Alex (Alex Burcea) - trumpet, flute, vocals, compositions, Aristides (Panaitescu Artistides Orlando Alegria, a native of Chile) - congas, bongos, vocals , Bos (George SIIA) - timbales, saxophone, compositions, Biu (Marquette Biunaiqui Isassi - Cuba) - vocals, guiro, Chupa (Marius Ciupitu) - drums, violin, voice, Elena (Elena Ionescu) - vocals, Florin (Florin SIIA ) - Bass, bass, vocals, Marietta (Mari Antonieta Gonzalez Arocha - Cuba) - piano, composition, voice, Sergio (Sergiu Bacos) - trombone; sugar (Valentine Andrew Zachar - Slovak origin) - saxophone.
In early 2006, Mandinga band celebrated three years of existence, during the first concert held in the new formula. Thr agenda from this year included two national tours, a very special appearance on MTV Romania (June 3 - Cluj Napoca), the launch of their third album (first single is
Goochi
), filming the second video and installation of a unique show in Romania.
In 2007, Mandinga and Connect-R filmed the new video of the song
Only You
, directed by Julian Moga.
The video distribution had over 170 people (professional dancers and acrobats), and the video was shot in one day.
The video is full of dance, dynamic and illustrates a romantic story between Helen and Connect-R. Another vidoclip was filmed for the song
When I'm With You
in duet with Alex. From 3 am until 12 at night, Elena, Sergio, Zah, Aristides, Chupa, Florin, Baz, Biu and Marietta, were filmed in a video through which they want to promote another image most colorful and more spectacular of the band. The song is from the album called
Gonzalo
and is a Marius Moga brand.
Foto: stars.tabu.ro