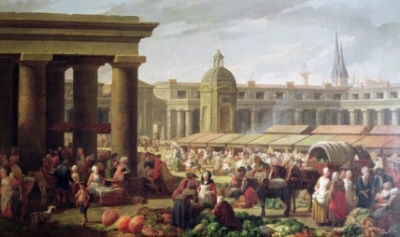 Born on 16 June 1735: Michel~Nicolas~Bernard Lépicié, French painter, draftsman, and professor, who died on 14 September 1784. He painted portraits, domestic genre scenes, and historical subjects. His best works, although not entirely free from the sentimentality of the period, have something of the tranquil beauty associated with Chardin. His father, François-Bernard Lépicié [06 Oct 1698 – 17 Jan 1755] was an engraver and writer on art. His mother, Renée-Elisabeth Marlie Lépicié [1714–1773], was also an engraver.

Nicolas-Bernard Lépicié was taught engraving by his father before entering the studio of the painter Carle Vanloo. In 1759 he won second prize in the Prix de Rome competition at the Académie Royale de Peinture et de Sculpture, but he never went to Rome. He was approved (agréé) by the Académie Royale in 1764 on presentation of a vast painting of The Landing of William the Conqueror on the English Coast. He subsequently painted a series of pictures, including The Baptism of Christ (1765) and Christ and the Little Children (1767), as well as a Conversion of Saul (1767).

In 1769 he was received as a full member by the Académie Royale on presentation of Achilles and the Centaur Chiron. He became an assistant professor in 1770 and a professor in 1777. His studio had a fine reputation, and several painters prominent in the Neo-classical generation were trained there, including Carle Vernet, Jean-Baptiste Regnault, Jean-Joseph Taillasson, Henri-Pierre Danloux, Jean-Frédéric Schall, Nicolas-Antoine Taunay. Lépicié's early success was doubtless facilitated by his father's reputation and by the friendship of Charles-Nicolas Cochin II, who had succeeded Bernard Lépicié as Secrétaire Perpétuel of the Académie Royale in 1755 and owned at least five of Nicolas-Bernard's works.