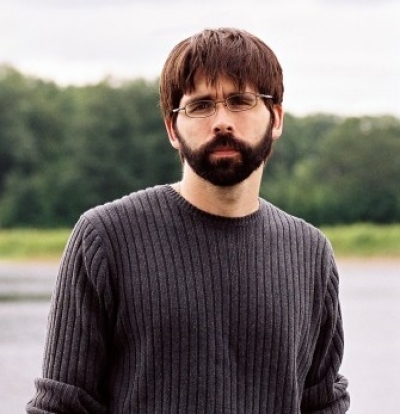 Being born as the oldest son of Stephen King ought to be a silver spoon if you want do be a writer to, yet Joseph Hillstrom King (born of June 4th 1972) wanted to make it on his own. If he was ever going to be published and even be succesfully he would do it on his own terms, under his own banner, so to speak, and not by using the fame of his father, by far the most famous horror writer ever. So he chose a pen name, Joe Hill - much like his own father did before as Richard Bachman - and would take several years before he would be "exposed". Again, strangely similar to what happened to Stephen King many years before.
Joe Hill would end up publishing several stories in magazines and anthologies before finishing and launching his very first book,
20th Century Ghosts
, a short stories collection that hit the market in 2005 in the UK and two years later in the USA, and even if it wasn't a huge bestseller it wasn't exactly passed upon. It would bring him a Bram Stoker Award and a British Fantasy Award, so Joe Hill managed to enter the horror/fantasy/weird fiction publishing world in a big way, and soon new fans and critics talked about a new, powerful and original voice. His very first novel,
Heart-Shaped Box
appeared in 2007, and by then the cat was out of the box, as in 2006 everybody knew that Joe Hill was really Joseph Hillstrom King. It was a bestseller and really meant that the new author had made it on his own. As he wanted from the very beginning.
Then came
Horns
(2010) - which was also adapted to the big screen by director Alexandre Aja, starring Daniel Radcliffe - which was even better received by the growing number of fans and critics, and was nominated for a Bram Stoker Award. The third novel,
NOS4A2
(the one most claim to be Hill's best work so far) was published in 2013 (sadly no movie version yet) and a fourth,
The Fireman
, was launched in 2016. So far Joe Hill has also been interested in comics, writing the hit series
Locke & Key
(with several parts and a potential TV series in the future) and also wrote the stories for other series and individual titles. And for those who could have wondered what a Hill/King story would have been like there are two (so far) written by the couple -
Throttle
and
In the Tall Grass
.
Joe Hill was married from 1999 till 2010 to Leanora King.
Photo: tvtropes.org