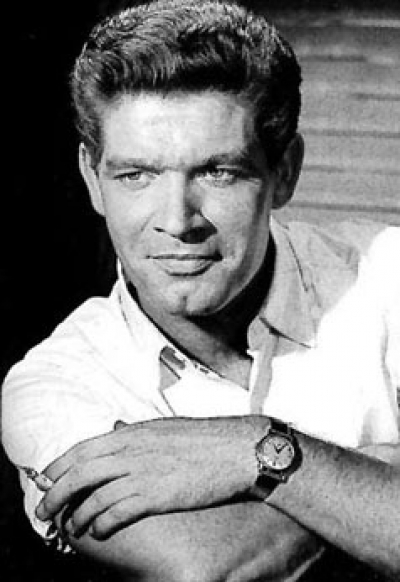 photo:
http://www.nndb.com/people/688/000086430/boyd-1-sized.jpg
Biography
For the actor from "The Electric Company", see Jim Boyd (actor).
Jimmy Boyd (born January 9, 1939) is an American singer, musician, and actor.
Jim Boyd was born in an old farmhouse in McComb, Mississippi. In 1941 his father, Leslie Boyd, put his wife, Winnie, and their two sons (Kenneth, 4, and Jimmy, 2), on a train bound for Riverside, California. Having sold everything they owned, and only having enough money for his wife's ticket and the two boys, Leslie rode the rails. He hitchhiked on freight trains to join his family in California, something he had done growing up through the Depression. Hoboing from Mississippi, Louisiana and as far as West Texas, he picked cotton to help support his own family of 21 brothers and sisters. The family was sent back to Mississippi a year earlier by the Welfare Department for not having any skills to get a good job.
Leslie had been a farmer when a drought hit and there were no more crops, so he picked cotton. He could pick over 500 pounds of cotton a day himself, and was paid 25 cents. Although there was no cotton in California to pick, this time they were determined to stay. Leslie got a menial job cleaning up construction sites.
Leslie and Winnie occasionally took the kids with them to a Country-and-Western dance, held in a barn in Colton, California, a few miles from Riverside. Jimmy's older brother Kenneth, about 9 years old at the time, went up to the bandstand and told the band leader he should hear his little brother sing and play the guitar. Texas Jim Lewis, the band leader, called little Jimmy up to the stage. Jimmy sang and played, and the crowd went wild.
After the dance was over, Texas Jim Lewis and the manager of a local radio station approached Jimmy's parents and asked if he could come sing every Saturday night, and be a part of the hour-long radio show they planned to broadcast from the dance. They offered to pay Jimmy $50 for every show. $50 was a lot of money for the Boyds, but Jimmy enjoyed performing and would have done it for nothing.
Leslie Boyd had cataracts in both eyes and had to have surgery. Cataract surgery in the 1940s was a serious operation, and it had to be done in Los Angeles. While in LA, they were told about auditions being held for the Al Jarvis Talent Show on KLAC-TV.
Jimmy auditioned for Al Jarvis and was such a hit that they put him on the show that night. Jimmy, to his astonishment, won the talent show, and the next day, Al Jarvis and KLAC were literally deluged in upwards of 20,000 telegrams and telephone calls from viewers.
Al Jarvis had a five-hour talk show every day on KLAC with a few regulars on it, including Betty White, called Make-Believe Ballroom. Jarvis immediately announced Jimmy would be a regular on the show. An appearance on the Frank Sinatra Show on CBS soon followed, then Columbia Records and the song "I Saw Mommy Kissing Santa Claus," which to date has sold over 60 million records, recorded when when he was 12 years and 11 months old.
Between February 1953 and November 1954, Boyd made five appearances on the Ed Sullivan Show. Boyd would record several number-one records: teaming up with Frankie Laine on "Tell Me a Story" and with Rosemary Clooney on "Dennis the Menace." Boyd showed he had comedic talents in TV series including Bachelor Father, Date with the Angels, Betty White Show, Broadside, My Three Sons, and others. He also appeared in a number of motion pictures, including 1960's Inherit the Wind with Spencer Tracy.
In 1960 Boyd married actress Yvonne Craig. The marriage ended in divorce in 1962.
In February 1967 he took part in Nancy Sinatra's USO tour of Vietnam.
For his contribution to the recording industry, Jimmy Boyd has a star on the Hollywood Walk of Fame at 7021 Hollywood Blvd.