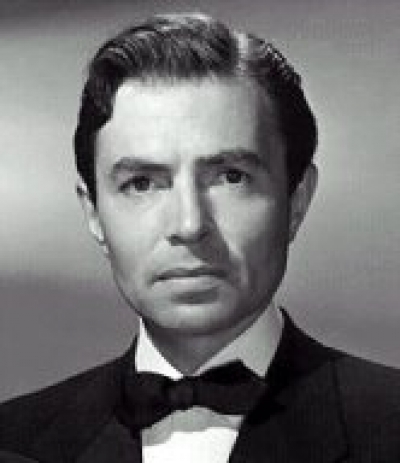 photo: http://static.cinemagia.ro/img/db/actor/00/56/13/james-mason-863120l.jpg
Biography
Early life
Mason was born in Huddersfield, Yorkshire, England to John and Mabel Mason; his father was a wealthy merchant. Mason had no formal training as an actor. He studied architecture at Cambridge University but got involved in the theatre in his spare time, before working at the Old Vic theatre in London and with the Gate Company in Dublin.
Career
From 1935 to 1948 he starred in many British quota quickies. A conscientious objector during World War II, he became immensely popular for his brooding anti-heroes in the Gainsborough series of melodramas of the 1940s, including The Man in Grey and The Wicked Lady. In 1949 he made his first Hollywood film, Caught, then went on to star in many more feature films and TV shows. Nominated three times for an Oscar, he never won one.
Mason's distinctive voice enabled him to play a menacing villain as greatly as his good looks assisted him as a leading man. His roles include the declining actor in the 1954 version of A Star Is Born, a mortally wounded terrorist in Odd Man Out (1946), Brutus in the 1953 film of Julius Caesar, General Erwin Rommel twice, once in The Desert Fox: The Story of Rommel in 1951, and in The Desert Rats (1953), Captain Nemo in 20,000 Leagues Under the Sea (1954), a suave masterspy in North by Northwest (1959), a determined explorer in Journey to the Center of the Earth (also 1959) and Humbert Humbert in Stanley Kubrick's Lolita (1962). One of his last roles, that of a corrupt lawyer in The Verdict (1982), earned him his third and final Oscar nomination.
Private life
In the late 1970s, he became a mentor to up-and-coming actor Sam Neill, who went on to have a successful career of his own.
Mason died as a result of a heart attack on July 27, 1984 in Lausanne, Switzerland. He was cremated, and (after a delay of 16 years) his ashes were buried in Corsier-sur-Vevey, Vaud, Switzerland. His old friend Charlie Chaplin is in a tomb a few steps away.