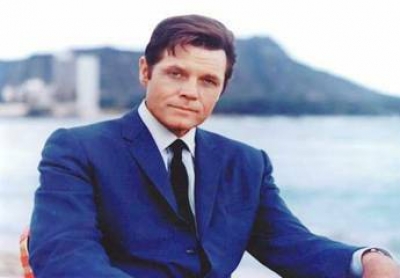 Biography
Jack Lord in a scene from Hawaii Five-O.
John Joseph Patrick Ryan (December 30, 1920 – January 21, 1998), best known by his stage name Jack Lord, made his career as a screen and Broadway theatre actor who is mostly known for his starring role as Steve McGarrett in the American television program Hawaii Five-O from 1968 to 1980. Lord also appeared in several classic feature films, among them Man of the West (1958) starring Gary Cooper.
Early in his career, he met his wife, Marie, who gave up her own career to support him.
Jack Lord was the first actor to play the character of Felix Leiter in the James Bond film series, introduced in the first Bond film, Dr. No. However, the film producers did not ask Lord to reprise the role in later films, since they felt that having the same actor playing Leiter would upstage the dominance of Sean Connery as the leading man.
Jack Lord playing Felix Leiter in Dr. No
Lord's several Broadway credits include a performance in Cat on a Hot Tin Roof. Lord gained additional publicity for his paintings, one of which was formerly housed by the Metropolitan Museum of Art.
Jack Lord died of congestive heart failure at his home in Honolulu, Hawaii, at the age of 77.
The producers of the 2000 Norm MacDonald comedy Screwed paid homage to Lord by making Danny DeVito's character Grover the zealous president of the "Jack Lord Fan Club". The film's focus on this topic included scenes from Hawaii Five-O being watched (and spoken word for word) by Grover.
Trivia
Traci Lords derived her stage name from the last name of her favorite actor.
Jack Lord was considered for the role of Captain Kirk on Star Trek; the role ultimately went to William Shatner. Because Lord wanted to co-produce and have a percentage in ownership of the series, he was ultimately rejected by both Gene Roddenberry and Desilu Studios.