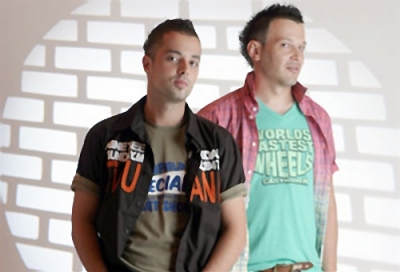 Foto: adgent.ro
- The Romanian music market started to fly to a high altitude in a universe of of fun and joy, in the same time with the release of the debut album named simple and suggestive,
Fly Project
. The band made the debut in the summer of 2005, with the song
Raisa
.
Fly Project
means Tudor Ionescu and Dan Denes. Tudor has 26 years and he comes from Brasov, Romania. Music is his passion and he likes much Red Hot Chili Peppers and Boys II Men. He studied at the Public Relations and Publicity Faculty in Brasov and he works as a Dj and producer to a local radio station in Brasov.
Among his hobbies there are included activities like traveling, sports and music.Tudor describes himself as a normal young that likes parties, girls and movies. The biggest wishes that he has is to go to China and dance hula-hula on a beach in Hawaii.
Dan Denes is 31 years old and he works as a sound ingineer to a recording studio in Brasov. He graduated the Technical University and consideres himself a very lucky man because he makes what he loves much, music. Dan has a big sister and he is uncle, with a granddaughter that he loves. His favourite artists are Boys II Men and Mariah Carey but he listens also lots of electronic music. His most desired wish is to have a few years less to make the most of he has in this moment.
The meeting between Dan and Tudor took place three years ago through a mutual friendship. The two of them became friends quickly and both concluded that they have same musical tastes. So they founded the band Fly Project.
The first album has 10 songs, 4 remixes and is an album that makes the listener to turn the volume high. The musical style of the album is dance-tehno and has a bonus. The
Raisa
song, one of the most aired songs on radio in the summer of 2005.
The second album was named
K-tinne
and like the first single extras. The album was released in Costinesti, Disco Tineretului. Not after long time was directed and released the
Chayenne
video, made after an ideea of a mini super-action movie, with chase scenes, bad mafia characters and kidnappings.
Filming lasted two days and were held in eight locations in Bucharest.
After the video for
Chayenne
was concieved another video, for the song
K-Tinne
. This one inspires emotion, rythm, color, energy and sensuality.
The clip was filmed in Europe's most colorful city, Barcelona. The ilming was made exactly as written in the script. The video is colorful, alive and has in foreground three friends, Tudor, Dan and Ana, the last being chosen by the Fly team through a casting. Her role was to give color to the video.
In short time Fly Project released another video for another song, Tasha, the first song made in English.
June 2010