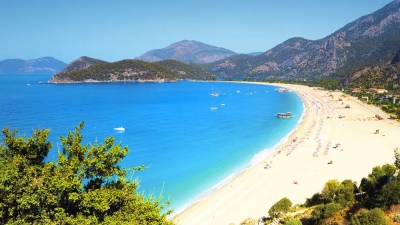 1. Looking for a seaside holiday that you most certainly won't forget? Then choose the Turquoise Coast, almost 1000 miles of Mediterranean Turkish shore, with some of the best beaches in the region and several places where you can visit the old cities now mostly turned to ruins. A summer holiday and a history lesson, what more could you want?
2. As strange as it might seem Santa Claus (don't think too much about the Coca Cola character) was born in today's teritory of Turkey. Saint Nicholas, the Bishop of Myra, one of the most popular of Christian saints and the one who inspired the myth of Santa Claus was really born in today's Demre in Turkey, back then Patara, Lycia. So when you tell someone that the jolly Santa Claus was born in Turkey it is not really a joke.
3. Coffee has always been a major part of Turkish culture, a delicious traditional drink and a symbol of the country. It was considered to be so important that a few centuries ago wives could divorce their husbands if they failed to provide them with "enough" coffee. How much was enough it is hard to say exactly. But for young women to have any hope of getting married they also had to make good coffee and to serve it according to the tradition.
4. Batman is not only the famous caped crusader, but also a city in Turkey. Located in the Anatolia Region and being the capital of the Batman province, the city is also situated next to the country's largest oil field, Bati Raman. And no, it has nothing to do with the superhero, it is just a strange coincidence.
5. If you love hazelnuts then you must know that Turkey is the most important producer of the delicious snack. In fact Turkey accounts (according to recent numbers) to almost three quarters of the world's production of hazelnuts, a most important figure by all means. So besides the traditional Turkish coffee why not try some local hazelnuts?
Photo: articlesvally.com