1. Do you remember the scene in "
Charlie and the Chocolate Factory
" in which several squirrels are checking and cracking nuts? Well, Tim Burton wanted it to be as real as possible, so they trained 40 squirrels for several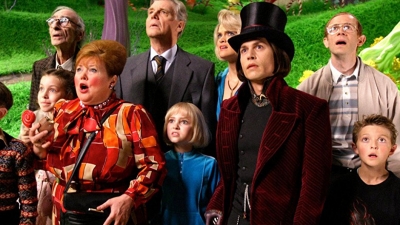 weeks, and the end result (with minimal CGI) is the one you can enjoy in the movie. While it might have seemed expensive and destined to fail in worked surprisingly well, and once again the famous direct seems to have found the most beautiful sollution.
2. Tim Burton's "
Batman
" was a huge surprise for the fans of the comicbook legendary hero, and Jack Nicholson's Joker is, for many, the best there could ever be. Certainly one of his best performances ever. Yet Nicholson had his doubts in the beginning, even turned it down, and for a while Robin Williams was scheduled to play the archnemesis of Batman. And when Nicholson finally decided to do it Williams took it really hard, and demanded an apology from the studios. Which he finally received.
3. Among all of his movies "
Beetlejuice
" is Michael Keaton's favorite one. And there is a good chance for him to return for the sequel, if and when that is made.
4. Johnny Depp is an animal lover, and after wrapping up filming for "
Sleepy Hollow
" he found out that the horse he rode during the production was to be put down. Abhored by the idea, the actor didn't hesitate and simply adopted the horse (named Goldeneye) as not only he really liked it, but the two seemed to have a fine working relation from the very first day.
5. Did you know that Robert Smith from The Cure was the inspiration for Edward's hair? Of course, we are talking about
Edward Scissorhands
(1990), one of his most beautiful movies and for many the one that made them watch Burton with a lost of hope and attention.
Photo: biography.com, amazon.com