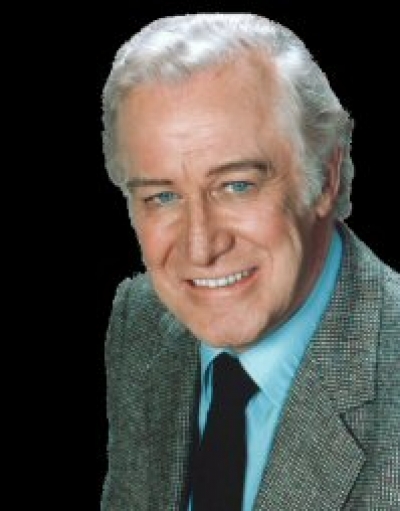 photo:
http://4.bp.blogspot.com/_3RWKoQRapCY/TErdB5ggdpI/AAAAAAAABCc/dQF-s4YfgSg/s320/Edward_Mulhare.jpg
Biography
Edward Mulhare (8 April 1923 - 24 May 1997) was a popular television leading man from 1956 to 1995.
Born in Carrigaline, Cork, Ireland and educated by the Irish Christian Brothers, Mulhare intended to study medicine, but was sidetracked by a growing interest in acting. After acting in various Irish venues including The Gate Theatre in Dublin, he moved to London where he worked with Orson Welles and John Gielgud.
His first television appearance was in 1956 in a production of The Adventures of Robin Hood, but he is more well known for his starring roles in two television series, The Ghost and Mrs. Muir and as Devon Miles in Knight Rider, as well as many guest starring performances on other programs.
He also starred in a number of films in his career including Megaforce and Out to Sea. His final role was on Baywatch Nights alongside Knight Rider co-star David Hasselhoff in 1997.
Edward Mulhare died in Los Angeles of lung cancer in 1997; never married, he was survived by a brother.
Filmography
Out to Sea (1997) ... . Cullen Carswell
Hart to Hart: Secrets of the Hart (1995) (TV)
B-17: The Flying Fortress (1987) (voice) ... . Narrator
Knight Rider (1982) TV Series .... Devon Miles
Megaforce (1982) ... . Byrne-White
Knight Rider 2000 (1991)
Gidget Grows Up (1969) (TV) ... . Alex MacLaughlin
The Ghost and Mrs. Muir (1968) TV Series .... Capt. Daniel Gregg
You Only Live Twice (1967) (uncredited) ... . British Diplomat
Eye of the Devil (1967) ... . Jean-Claude Ibert
Caprice (1967) ... Sir Jason Fox
Our Man Flint (1966) ... . Malcolm Rodney
Von Ryan's Express (1965) ... . Capt. Costanzo
Signpost to Murder (1964) ... Dr. Mark Fleming
Giv'a 24 Eina Ona (1955) .... James Finnegan