Romanian artist born on September 22nd 1888 in Colibasi, Mehedinti, Dumitru Ghiata is best remembered today for his landscape and floral still lifes, interesting and complex compositions, marked by his definitive, mature and strongly original style, with a touch of foreign influences.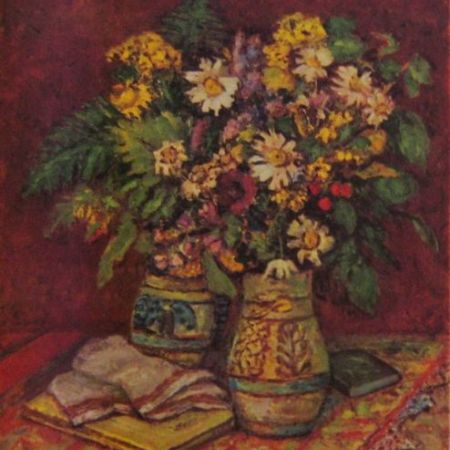 Mountain Flowers
But in the beginning the future artist was nowhere in contact with art, as drawing and painting was just a hobby for his spare time. And although he definetelly showed talent, he didn't consider a career in that field. Further more, he was drawn towards scientific research, and in 1908 he moved to Bucharest and worked at the Institute led by the famous doctor Ioan Cantacuzino. It was a good thing for Ghiata, for Cantacuzino took a liking to the young employee and even offered him a small room for rent at the Institute. After finding out that Dumitru Ghiata was interested into painting and drawing - and seeing his first compositions - Cantacuzino was so impressed that he introduced Ghiata tu Artur Verona, at that time a major artist.
It was Veron that helped Ghiata to study for three years painting and drawing, and in 1913 he even helped him move for a month to Paris, where the young Romanian artist studied at the Academie Ranson and Academie Delecluze. Here he became accustomed to Post-Impressionism - which will influence him greatly - and produced several works, mainly landscapes and still lifes, works that already proved his artistic maturity. He got married in 1927, already thinking about an artistic career, which seemed more and more possible. He also used the money he had gained so far to begin building a house/studio for him and his bride in Cotroceni, Bucharest.
It wasn't a very large house - certainly back in those days there were many more larger and richer - yet for a young artist, at the beginning of his "voyage", was simply perfect. As it had, upstairs, a large and well organized studio, where Dumitru Ghiata could work all day long. The light was perfect, the ideas and themes kept on coming, he was making himself better known in the works of Romanian art. All in all, it seemed to be a very good time for him. And until the year of his death, 1972, Dumitru Ghiata continued working, exhibiting in Romania and abroad, he received several important prizes and distinctions, influenced several generations of young artists, being one of the foremost contemporary artists.
Much to the surprise of many other painters, just before his death, in 1971, Dumitru Ghiata made a generous gesture, donating his house and all of his belongings, including personal objects, documents and especially his rich art collection, comprised mainly of his own creations, to the Romanian state. But it would only be in 1994, after a long and undeserved period of expectation, that the "Dumitru and Aurelia Ghiata Art Museum" was finally opened. The reaction of Romanian art lovers was really impressive for a small art museum, dedicated mainly to the artist, but in 1999, due to the need for dire renovations, the museum was closed down and the works were moved to the National Art Museum.
Dumitru Ghiata is an interesting and often surprising artist, with a strong and deceptively simple and direct style, with strong lines, sober colours, rather bland themes and elements, all of which amassing to a nice series of compositions.
Photo : wikipedia.org
2008-08-11
www.artline.ro