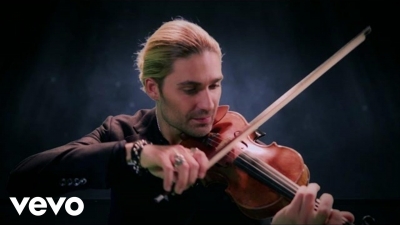 1. David Garrett first discovered the violin when he was only four and his older brother received the instrument as a gift. David was simply fascinated by the violin and spent hours just touching it and playing with it, so very soon he began the real training. His very first teacher was actually his father, Georg Bongartz, who wasn't just a musician but also the owner of Europe's only auction house for string instruments. Just a year later he would perform in his very first competition. And won it.
2. He received his first Stradivarius violin from the German president Richard von Weizsacker. David Garrett was 11 at the time and he had already impressed the politician during a concert at the presidential residence. A real "wunderkind", David Garrett was only 13 years of age when he signed an exclusive contract with Deutsche Grammophon, the famous recording house. It was also a real world record as being just 13 Garret was also the youngest soloist to sign such a contract. And over the next few years he would also achieve several major landmarks of his career, such as playing with the Munich Philharmonic Orchestra at 16.
3. You might not know that the musician is not only colorblind, but also far-sighted and wears contact lenses on stage (and often in everyday life).
4. His most famous teacher was without doubt Itzhak Permann, the celebrated violonist.
5. He uses Garrett because it was his mother's maiden name. He was born David Christian Bongartz in 1980, in Aachen, Germany.