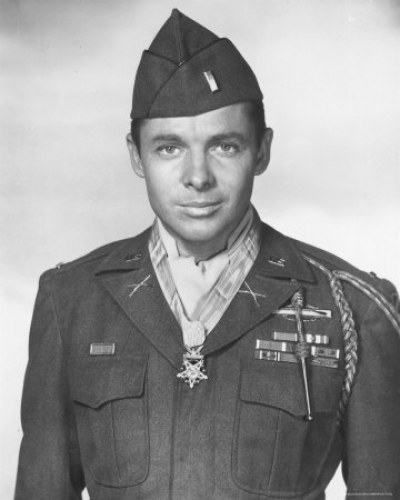 Biography
Military career
Desperately needing money, Murphy tried to join the military in order to earn enough to help support his family. Murphy had tried to enlist in the Army in his native Texas as soon as the U.S. declared war due to the Japanese bombing of Pearl Harbor in December of 1941, but was rejected because he was too young. He was accepted into the U.S. Army after being turned down by the Navy, Marines and Army Paratroopers because he was too short. He signed the papers a few days after his eighteenth birthday and was sent through Basic Training at Fort Wolters, Texas. During a training session of close order drill at Camp Wolters he fell flat on his face and passed out cold. The company commanders tried to have him transferred to cook and bakers' school because of his baby- faced youthfulness, but Murphy persisted in becoming a fighting soldier.
There he received the nickname "baby". After thirteen weeks of basic training, he was sent to Fort Meade, Maryland for advanced infantry training. Murphy had to fight to be able to go overseas to see combat. He was then attached to Company B, First Battalion, Fifteenth Regiment, U.S. third Infantry Division and shipped to Casablanca, Morocco (North Africa). After helping wipe up the last of the Axis resistance, he and his unit were sent to participate in the Invasion of Sicily. Upon arrival in Sicily, he had his first encounter with death. He killed two Italian soldiers as they tried to escape on horseback. When questioned by his platoon leader why he did it, he replied, "It was my job". Murphy contracted malaria while in Sicily.
It put him in the hospital for several days while in Salerno, and on an occasional basis during the remainder of the war. Next, Murphy was involved in the Invasion of Italy. Murphy distinguished himself as an effective soldier by fighting his way out of an enemy ambush. When he returned he was promoted to Sergeant. He also received a Bronze Star for his actions in Italy. Then the third Infantry Division invaded Southern France on August 15, 1944. Murphy's battalion was in an ambush in which a friend of his, Private Lattie Tipton, was killed as he tried to accept some surrendering German troops. Murphy decided to avenge Tipton's death by taking a German machine gun with his grenades and destroying several other enemy positions nearby.
For this action he received a Distinguished Service Cross. Just weeks later, he received two Silver Stars for twice saving his patrol from a German ambush. Soon after that, he was given a commission as a Second Lieutenant and went back to command the platoon he had served in. He was wounded by a sniper bullet in the hip and spent three months recuperating. When he got back, he led his men in the action that earned him the Medal of Honor.
Audie Murphy on the cover of Life Magazine on July 16, 1945.
Audie Murphy fought in World War II with such courage that he received every decoration for valor that the United States had to offer, plus another five decorations that were presented to him by Belgium and France. He was the most decorated U.S. soldier during WWII. Part of Murphy's appeal to many people was that he hardly fit the "image" of a war hero. He was a slight, somewhat skinny, shy and soft-spoken young man, with a boyish appearance (something he never lost throughout his life). Beginning his service as an Army Private, Murphy quickly rose to the enlisted rank of Staff Sergeant, was given a battlefield commission as Second Lieutenant, and company commander. He was promoted to Second Lieutenant prior to receiving his Medal of Honor. Murphy was credited with killing over 240 of the enemy while wounding and capturing many others.
Murphy became a legend within the Third Infantry Division for his heroism. He was wounded three times and awarded the Purple Heart with Second Oak Leaf Cluster. Murphy served the rest of the war as a liaison officer and then returned to Texas after the war. After Murphy's discharge from the service, he went back to Texas to be welcomed to parades, banquets and speeches. He even had his photo hung at the Texas State Capitol in Austin, Texas.
The Korean War broke out in June 1950. In July 1950, Audie returned to Dallas to join the 36th Infantry Division (Texas National Guard). If that division was re-activated, Murphy would have again found himself in a combat outfit. He had considered volunteering for direct military service, but the "police action" which the Korean War was called indicated that it would be a short term combat, and Murphy had little desire to pull a full-time hitch in a peace-time army. His final rank later was Major in the Texas National Guard.
Medal of Honor
Here is the Medal of Honor citation that explains why Murphy was awarded the medal:
Rank and organization: Second Lieutenant, U.S. Army, Company B 1 5th Infantry, 3rd Infantry Division. Place and date: Near Holtzwihr France, 26 January, 1945. Entered service at: Dallas, Texas. Birth: Hunt County, near Kingston, Texas, G.O. No. 65, 9 August 1945. Citation Second Lt. Murphy commanded Company B, which was attacked by 6 tanks and waves of infantry. Second Lt. Murphy ordered his men to withdraw to prepared positions in a woods, while he remained forward at his command post and continued to give fire directions to the artillery by telephone. Behind him, to his right, 1 of our tank destroyers received a direct hit and began to burn. Its crew withdrew to the woods. Second Lt. Murphy continued to direct artillery fire which killed large numbers of the advancing enemy infantry. With the enemy tanks abreast of his position, Second Lt. Murphy climbed on the burning tank destroyer, which was in danger of blowing up at any moment, and employed its .50 caliber machine gun against the enemy.
He was alone and exposed to German fire from 3 sides, but his deadly fire killed dozens of Germans and caused their infantry attack to waver. The enemy tanks, losing infantry support, began to fall back. For an hour the Germans tried every available weapon to eliminate Second Lt. Murphy, but he continued to hold his position and wiped out a squad which was trying to creep up unnoticed on his right flank. Germans reached as close as 10 yards, only to be mowed down by his fire. He received a leg wound, but ignored it and continued the single-handed fight until his ammunition was exhausted. He then made his way to his company, refused medical attention, and organized the company in a counterattack which forced the Germans to withdraw.
His directing of artillery fire wiped out many of the enemy; he killed or wounded about 50. Second Lt. Murphy's indomitable courage and his refusal to give an inch of ground saved his company from possible encirclement and destruction, and enabled it to hold the woods which had been the enemy's objective.
Post war illness
Murphy sufferred from [Post-traumatic stress disorder] (PTSD). His first wife, Wanda Hendrix often talked of his struggle with his condition, claiming he had at one time held her at gun point. He was plagued by insomnia and depression. During the mid-1960s he became dependent for a time on doctor prescribed sleeping pills called Placidyl. When he recognized that he had become addicted to this prescription drug, he locked himself in a motel room. He stopped taking the sleeping pills and went through withdrawal symptoms for a week. Always an advocate for the needs of veterans, he broke the taboo about discussing war related mental problems after this experience. In an effort to draw attention to the problems of returning Korean and Vietnam War veterans, Audie Murphy spoke-out candidly about his personal problems with PTSD, then known as "Battle fatigue". He publicly called for United States government to give more consideration and study to the emotional impact war has on veterans and to extend health care benefits to address PTSD and other mental health problems of returning war veterans.
Movie career
Audie Murphy in 1967 Western movie, 40 Guns to Apache Pass.
Actor James Cagney invited Murphy to Hollywood in September 1945, when he saw Murphy's photo on the cover of Life Magazine on July 16, 1945. The next couple of years in California were hard times for Murphy. He became disillusioned from lack of work. He was broke and slept on the gymnasium floor of his friend, Terry Hunt. He finally received token acting parts in his first two films, Beyond Glory and Texas, Brooklyn and Heaven but his roles were very minor in these movies. Murphy's third movie, Bad Boy, was Murphy's first starring role.
First starring role
After returning home from World War II, Murphy bought a house in Farmersville, Texas for his oldest sister Corinne, her husband Poland Burns, and their three children. The idea was that Audie's three siblings, Nadene, Billie, and Joe, who had been living in an orphanage since Murphy's mother's death, would also be able to live with Corinne and Poland and would become part of a family again. Unfortunately, six children under one roof created too much stress on everyone. The arrangement didn't work out as smoothly as expected, particularly with Nadene and Joe, so Murphy came and picked them up.
Joe and Nadene wanted to stay with Murphy, but he was having a hard time surviving. Despite a lot of post war publicity and James Cagney's help, Murphy's acting career had gone nowhere. Murphy's oldest brother Buck and his wife agreed to take in Nadene but Murphy didn't know what to do with Joe.
Murphy went to James "Skipper" Cherry, a Dallas theater owner whom he had previously befriended, and sought his advice. Cherry was a member of a consortium of Texas theater owners who were part of Variety Clubs International and was involved with the Variety Clubs International Boy's Ranch a 4,800 acre (19 km²) ranch near Copperas Cove, Texas. Cherry arranged for the Boy's Ranch to take Joe in. Joe loved it there and Murphy was able to visit him, as well as Skipper Cherry frequently.
During one of these visits, Murphy confided to Cherry that even with Cagney's help and acting lessons, he wasn't getting anywhere in Hollywood. In a 1973 interview, Cherry recalled, "He was discouraged and somewhat despondent concerning his movie career." Variety Clubs was financing a film called Bad Boy to help promote the organization's work with troubled children.
Cherry called Texas theater executive Paul Short, who was producing the film, and suggested they considered giving Murphy a significant role in the movie. Murphy looked good in the screen test, but the president of Allied Artists did not want to cast someone with so little acting experience as a major character. However, by this time, Cherry, Short, and the other Texas theater owners had decided that Audie Murphy was going to play the lead or they weren't financing the film. Their money talked and Murphy was cast as the lead. He turned in such a fine performance that the Hollywood powers that be finally recognized his talent. As a direct result of this film, Universal Studios signed Murphy to his first seven year studio contract.
Autobiography
1955 photo of Audie Murphy 955 photo that was taken for advertisement and art work purposes for the movie To Hell and Back.
1955 photo of Audie Murphy and his wife, Pam Archer Murphy, as they arrived at the Los Angeles premiere of To Hell and Back at the Wiltern Theater on October 12, 1955.
Murphy's 1949 autobiography To Hell and Back became a national bestseller. The 1955 film, of the same name was based on his book. The film grossed almost ten million dollars during its initial theatrical release, and, at the time, became Universal's biggest hit movie in the 43-year history of the studio. It held the record as Universal's highest-grossing motion picture until 1975, when it was surpassed by Steven Spielberg's Jaws. This film would not be released until October, 1955, but Universal believed the movie would be a big hit, so the studio gave Murphy latitude in choosing roles as long as they required a lot of action. Terry Murphy, who played Joe Preston Murphy (at 4), is Murphy's oldest son. Corinne, Charles Emmett (Buck), Vernon, June, Oneta, J.W., Richard, Eugene, Nadene, Billie and Joseph Murphy were the names of Murphy's brothers and sisters in real life. Murphy starred as himself in this film biography.
Hollywood Walk of Fame
For his contribution to the motion picture industry, Audie Murphy has a star on the Hollywood Walk of Fame at 1601 Vine Street. In the twenty five years that Murphy spent in Hollywood, he made a total of forty four feature films.
Music career
In addition to acting in motion pictures, Murphy also became successful as a country music songwriter. He teamed up with talented artists and composers such as Guy Mitchell, Jimmy Bryant, Scott Turner, Coy Ziegler, Terri Eddleman. Many of Audie Murphy's songs were recorded and released by such great performers as Dean Martin, Eddy Arnold, Charley Pride, Jimmy Bryant, Porter Waggoner, Jerry Wallace, Roy Clark, Harry Nilsson. His two biggest hits were Shutters and Boards and When the Wind Blows in Chicago. Eddy Arnold recorded When the Wind Blows in Chicago for his 1993 album, Last of the Love Song Singers which is currently in release by RCA.
Death
While on a business trip on May 28, 1971, (Memorial Day Weekend) he was killed at the age of 46. His private plane was flying in fog and rain. It crashed on the side of Brush Mountain near Catawba, Virginia, some twenty miles west of Roanoke, Virginia. Five others including the pilot were also killed.
On June 7, 1971, Audie Murphy was buried with full military honors in Arlington National Cemetery. His gravesite, near the Amphitheater, is second most visited gravesite year round. President John F. Kennedy's grave is the most visited. At Arlington Cemetery, the tombstones of Medal of Honor winners are normally decorated in gold leaf, but Murphy had requested that his tombstone remained plain and inconspicous. His engraved headstone reads as follows: Audie L. Murphy, Texas. Major Infantry, World War II, June 20, 1924 to May 28, 1971, Medal of Honor, DSC - SS & OLC; LM - BSM & OLC; PH & two OLC. (DSC-Distinguished Service Cross; SS-Silver Star; LM-Legion of Merit; BSM-Bronze Star Medal; OLC-Oak Leaf Cluster; PH-Purple Heart).
In 1974, a large granite memorial marker was erected near the crash site.
Honors
To meet Wikipedia's quality standards and conform with our NPOV policy, this article or section may require cleanup.
The current version of the article or section reads like an advertisement. Please discuss this issue on the talk page. Editing help is available.
An Audie Murphy National Fan Club was established in the 1950s. Headed by various fans over the years, the club still exists today with over 400 fans in 9 countries.
On November 17, 1973, the Audie L. Murphy Memorial Veterans Hospital in San Antonio, Texas was dedicated to Murphy. It is a one-ton bronze, eight-foot statue of Murphy by the sculptress, Jimilu Mason. He is dressed in battle fatigues holding a rifle with bayonet. Inside the hospital, is a museum that depicts Murphy's life and has items including a uniform, other clothing, books and pictures.
In early 1986, the U.S. Army started the Sergeant Audie Murphy Club at Fort Hood, Texas. There were several key people at Fort Hood-officer, enlisted, civil service and a Killeen civilian-who were instrumental in getting the club up and running. Leading the effort was Lieutenant General Crosbie Saint, then the III Corps Commander; his Command Sergeant Major George L. Horvath; III Corp Awards Clerk Jean Crisp, who is now Test and Experimentation Command awards clerk and Don Moore, a Killeen artist who assisted with designing the logo and the club awards. In 1991, then III Corps Commander Lieutenant General Pete Taylor and Command Sergeant Major Richard B. Cayton expanded the Fort Hood installation club to include all of III Corps. This included Fort Riley, Kansas; Fort Sill, Oklahoma; Fort Bliss, Texas; Fort Polk, Louisiana and Fort Carson, Colorado. In 1993, CSM Cayton was voted into the Sergeant Audie Murphy Club by the membership and then became the Forces Command Command Sergeant Major. Soon thereafter, the club became FORSCOM-wide, including the Reserves and National Guard.
In 1994 at a Sergeant Major of the Army conference, the Sergeant Audie Murphy Club spread Army-wide, to all commands with installations retaining the selection process for their own NCOs. Many other installation like Fort Sill, Oklahoma and Fort Riley, Kansas created chapters of the club and began the process of selecting qualified candidates for induction. Professionalism, Loyalty, Caring, Discipline. These are still the watchwords for this group of modern day warriors. Taking care of their soldiers while accomplishing the mission has always been their duty. These SGT Audie Murphy(s) are the leaders we want guiding our soldiers into the 21st century....and beyond.
In 1996 the Texas Legislature officially declared his birthdate, June 20, as "Audie Murphy Day". U.S. Highway 69 North, from North Greenville city limits to Fannin County line was renamed "The Audie Murphy Memorial Highway". In 1996, he was inducted posthumously into the Western Performers Hall of Fame at the National Cowboy & Western Heritage Museum in Oklahoma City, Oklahoma.
From the mid-90s thru the present, there has been an annual celebration of Audie and other veterans in all branches of service held at the American Cotton Museum in Greenville (held on the weekend closest to Murphy's birthday) and in Farmersville (held on his birthday of June 20th). The neighboring towns of Celeste and Kingston also hold annual celebrations or ceremonies. The events in Greenville and Farmersville have been attended by Active Duty soldiers who are members of the Sergeant Audie Murphy Club. (This is an elite membership group recognizing noncommissioned officers (sergeants) who have displayed the integrity, professionalism, commitment to mentoring subordinate soldiers, leadership abilities and personal ethics as exemplified by Audie L. Murphy. Usually, just 1% of the top 5% of the best sergeants in the Army are invited to try out for membership in this club.) In 2002, an eleven foot tall bronze statue of Audie was unveiled in front of the Greenville museum.
Created by local sculturer, Thomas Gibson, the statue was the centerpiece for a memorial to honor veterans from all branches of the service, from all the major conflicts. Soldiers from the Fort Sill, Oklahoma and Fort Hood, Texas Sergeant Audie Murphy Clubs assisted with the ceremonies and unveiling.
In 1999, Governor George W. Bush, also made the same proclamation declaring June 20 to officially be "Audie Murphy Day" in the state of Texas.
In 2000, Audie Murphy was honored with his portrait on a thirty three cent United States postage stamp. There is also an Audie Murphy Middle School in Fort Hood, Texas, named in his honor.
The American Cotton Museum in Greenville (Hunt County), Texas is located just off Interstate 30 East. Recently renamed the Audie Murphy/American Cotton Museum, it houses the largest collection of Audie Murphy memorabilia and personal items. Many items have been donated by Murphy family members or by Audie's many world-wide fans. The museum is open Monday-Friday from 8:00 a.m. to 5:00p.m. and Saturday from 12:00noon to 5:00p.m. There is no charge, but donations are always welcomed.
Military awards
Medal of Honor
Distinguished Service Cross
Silver Star with First Oak Leaf Cluster
Legion of Merit
Bronze Star Medal with "V" Device and First Oak Leaf Cluster
Purple Heart with Second Oak Leaf Cluster
U.S. Army Outstanding Civilian Service Medal
Good Conduct Medal
Presidential Unit Citation (US) with First Oak Leaf Cluster
European-African-Middle Eastern Campaign Medal with One Silver Star, Four Bronze Service Stars (representing nine campaigns) and one Bronze Arrowhead (representing assault landing at Sicily and Southern France)
American Campaign Medal
World War II Victory Medal
Army of Occupation Medal with Germany Clasp
Armed Forces Reserve Medal
Combat Infantryman Badge
Expert Badge with Bayonet Bar
Marksman Badge with Rifle Bar
French Fourragère in Colors of the Croix de guerre
French Legion of Honor
French Croix de guerre with Palm
French Croix de guerre with Silver Star
French Liberation Medal
Belgian Croix de guerre with Palm
Trivia
Murphy's height was 5'5".
Had only one buttock. Lost in battle.
Was the original choice to play the Scorpio Killer in Dirty Harry.
Had horrible nightmares and slept with a gun under his pillow.
Purchased a Middle Eastern oil field in the 60's which was blown up during the Six Day War, causing him to file for bankruptcy.
His highest grossing film was To Hell and Back.
Would often say he had "no talent."
His films earned him close to 3 million dollars in 23 years as an actor.
Ironically, former WWII General and President Dwight Eisenhower did not enjoy Murphy's films saying his fight scenes were unbelievable due to his small stature.
He was a life member of the National Rifle Association.
Was ambivalent to star in "To Hell and Back" fearing that he was cashing in on his war experience. He even suggested that his role be played by Tony Curtis.
Filmography
A Time for Dying (1969)
40 Guns to Apache Pass (1967)
The Texican (1966) aka Texas Kid (Spain)
Trunk to Cairo (1966) aka Cairo Campaign; aka Einer spielt falsch (West Germany); aka Mivtza Kahir (Israel: Hebrew title)
Gunpoint (1966)
Arizona Raiders (1965)
Apache Rifles (1964)
Bullet for a Badman (1964) aka Renegade Posse (USA)
The Quick Gun (1964)
Gunfight at Comanche Creek (1963) aka Gun Fight at Comanche Creek (USA: poster title)
War Is Hell (1963) (Was the narrator)
Showdown (1963)
Six Black Horses (1962)
Battle at Bloody Beach (1961) aka Battle on the Beach (UK)
Whispering Smith (1961) TV Series
Posse from Hell (1961)
Seven Ways from Sundown (1960)
The Unforgiven (1960)
Hell Bent for Leather (1960)
Cast a Long Shadow (1959)
The Wild and the Innocent (1959)
No Name on the Bullet (1959)
The Gun Runners (1958) aka Gunrunners (International: English title)
Ride a Crooked Trail (1958)
The Quiet American (1958)
Night Passage (1957)
Joe Butterfly (1957)
The Guns of Fort Petticoat (1957)
Walk the Proud Land (1956) aka Apache Agent
World in My Corner (1956)
To Hell and Back (film) (1955)
Destry (1954)
Drums Across the River (1954)
Ride Clear of Diablo (1954) aka The Breckenridge Story (USA)
Tumbleweed (1953) aka Three Were Renegades (USA)
Column South (1953)
Gunsmoke (1953) aka A Man's Country (USA); aka Roughshod (USA)
The Duel at Silver Creek (1952) aka Claim Jumpers (USA)
The Cimarron Kid (1952)
The Red Badge of Courage (1951)
Kansas Raiders (1950)
The Kid from Texas (1950) aka Texas Kid, Outlaw (UK)
Sierra (1950)
Bad Boy (1949) aka The Story of Danny Lester
Beyond Glory (1948)
Texas, Brooklyn and Heaven (1948) aka The Girl from Texas (UK)
See also: Other notable figures in Western films