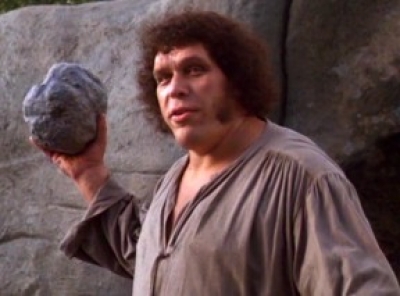 Biography

Born to French parents of Bulgarian and Polish descent in a small farm near Ussy-sur-Marne, he left home in his adolescence to become a pro wrestler. He was billed at a height of 7 ft 4 in (2.24 m) and sometimes 7 ft 5 in (2.26 m) with a weight which ranged from 380 to 525 pounds. His correct height is contested but the last time he was legitimately measured at the age of 24, he was 6 feet and 9 3/4 inches tall (2.08 m).
The great exaggeration of his height probably comes from the fact that Kareem Abdul-Jabbar was the tallest athlete in the world at the time at 7 feet and 2 inches (2.19 m) and promoters wanted to bill Roussimoff as the biggest athlete in the world. Nevertheless, the sight of him alone was enough to draw huge crowds in a day when there were only a handful of people over 6 ft 6 in (1.98 m). After touring the world with different promotions for many years (mostly in Montreal for Edouard Carpentier), he was signed by the World Wide Wrestling Federation (which would later change its name to the World Wrestling Federation in 1979, and is now known as World Wrestling Entertainment).
On March 26, 1973, Roussimoff made his WWF debut, defeating Buddy Wolfe in New York's Madison Square Garden. He also dabbled in acting during 1976 and 1977, playing a Sasquatch (aka "Bigfoot") on the television series The Six Million Dollar Man. By the time WWF chairman Vincent K. McMahon began to expand his promotion to the national level in the early 1980s, Roussimoff wrestled exclusively for the WWF.
Roussimoff was a very imposing figure – it is said that he never tested the full extent of his true strength because he was afraid of the damage it might cause. Despite the hype, many wrestlers have stated that while Andre might not know his full strength, he was always easy to work with in the ring, and always protected his opponents. It is also said that Roussimoff could drink an entire case of beer and not feel so much as a buzz.
There were also stories of Andre drinking cases of wine until he would pass out as a way to numb the pain his condition caused him. He would pass out in hotel lobbies, and a sheet would simply be thrown over him, as no one had the strength to move his massive body unaided. However, there is no proof that any of these stories are true, and that while Andre was certainly a legendary drinker who loved to have a good time eating and drinking with friends, wrestling is famous for tall tales, and this could be simply another tall tale. He was offered a professional American football contract with the Washington Redskins after a tryout in 1974 and seriously considered it before turning it down, reasoning that he could make far more money wrestling (which was probably true, especially at that time).
He was one of the WWF's most beloved "babyfaces" throughout the 1970s and early '80s, although the legend that for 14 years never lost by pinfall or submission in a WWF ring before being pinned by Hulk Hogan on March 29, 1987 at WrestleMania III is pure fiction, designed to hype the WrestleMania matchup to be bigger than it was. Roussimoff had lost clean in matches outside of the parameters of the WWF; a pinfall loss in Mexico to El Canek in 1984, and in Japan, a submission loss to Antonio Inoki in 1986, as well as a controversial no-contest finish against Akira Maeda, who used heel shoot-style tactics to dominate the match. He also went 60-minute time limit draws with the two other major world champions of the day, Harley Race and Nick Bockwinkel.
Roussimoff had memorable clashes all over the world with a variety of tough, rugged opponents. Among his chief rivals in the ring: The Sheik (who gained a deathmatch win over the Frenchman in 1974 with the help of his fireball), Abdullah the Butcher, Stan Hansen, Ernie Ladd, and a young Hulk Hogan, who first met Roussimoff in 1978 during his rookie years in the deep South. Hogan and André would go on to have one of the great WWF feuds of 1980, peaking in front of 36,295 fans at the Showdown At Shea event, on August 9, 1980 in Flushing, New York's Shea Stadium.
One of Andre's most bitter feuds pitted him against the Mongolian terror Killer Khan, who was managed by the late Fred Blassie. According to the storyline, Khan had broken André's ankle during a match in Rochester, New York, by leaping off the top rope and crashing down upon it with his kneedrop (actually, André had broken his ankle getting out of bed). After a stay at Beth-Israel Hospital in Boston, Roussimoff returned with payback on his mind. On November 14, 1981 at the Philadelphia Spectrum, Roussimoff exacted revenge by destroying Killer Khan in what was billed as a "Mongolian Stretcher Match", in which the loser must be taken to the dressing room on a stretcher.
Another memorable Roussimoff feud involved a man who considered himself to be "the true giant" of wrestling: the late 6 ft 10 in, 364-pound Big John Studd. Throughout the early to mid-1980s, Roussimoff and Studd fought all over the world, battling to try and determine who the real giant of wrestling was. In December 1984, Studd took the feud to a new level, when he and partner Ken Patera knocked out Roussimoff during a televised tag team match, and proceeded to cut off Roussimoff's famous long locks. Roussimoff had the last laugh at the first WrestleMania, on March 31, 1985 at Madison Square Garden. Roussimoff conquered Studd in a $15,000 Bodyslam Challenge. After slamming Studd, he attempted to give the $15,000 prize to the fans, before having the bag stolen from him by his future manager Bobby "The Brain" Heenan.
The following year, at WrestleMania 2 (April 7, 1986), Roussimoff continued to display his dominance, by winning a 20-man battle royal that featured top NFL stars and wrestlers. Roussimoff eliminated future wrestling legend Bret Hart to win the contest.
Afterwards, Roussimoff continued his feud with Studd and King Kong Bundy. Roussimoff was suspended after a no-show; he returned under a mask as 'The Giant Machine' part of a team with 'Big Machine' (Robert Windham) and 'Super Machine' (Bill Eadie). (The 'Machines' gimmick was copied from New Japan Pro Wrestling character 'Super Strong Machine', played by Japanese wrestler Junji Hirata.) Soon afterwards, Giant Machine disappeared and Roussimoff was reinstated, to the approval of Bobby "The Brain" Heenan.
Roussimoff was turned heel in 1987 so that he could face Hulk Hogan for the WWF Championship in the main event of WrestleMania III. In early 1987, Hogan was presented a trophy for being the WWF World Heavyweight Champion for three years. Roussimoff came out to congratulate him. Shortly afterwards, Roussimoff was presented a slightly smaller trophy for being "undefeated in the WWF for 15 years." In actuality, Roussimoff had suffered a handful of countout and disqualification losses in the WWF, but had never been pinned or forced to submit in a WWF ring. Hogan came out to congratulate Roussimoff, and ended up being the focal point of the interview. A visibly annoyed Roussimoff walked out in the midst of Hogan's speech. Then, on an edition of Piper's Pit, Hogan was confronted by Heenan. Heenan announced that his new protege was Roussimoff. Roussimoff then challenged Hogan to a title match at WrestleMania III, ripping the t-shirt and crucifix off of Hogan.
It was at WrestleMania III that the public first really saw the pain that Roussimoff was going through, by this stage his body was weighed in at about 525 pounds and his bones and joints were finding it hard supporting such a huge weight. Hogan won the match after dropping Roussimoff with a bodyslam, followed by Hogan's running legdrop finisher (years later, Hogan stated that Roussimoff was so heavy, he felt more like 700 pounds).
Another famous tall tale about the match is that "no one knew" if Andre would lose the match. In reality, Andre had agreed to the match a long time before, mostly for health reasons. Before being signed to the WWF, Roussimoff had wrestled in Japan. It was here that a doctor diagnosed Roussimoff with his condition and told him that those with the same problem were generally lucky to reach forty. Roussimoff never told his family of the diagnosis and his closest friends believe that it was this motivation that led Roussimoff to live life to the fullest until he died.
The Hogan-Andre face off in WrestleMania III was likely the most highly anticipated professional wrestling matchup in history – the apex of wrestling's most recent golden era. The event, held at the Pontiac Silverdome, had millions watching on pay-per-view, and established great permanent value in the WrestleMania franchise. Hogan defeated Roussimoff, in what some consider a passing of the torch from Roussimoff, wrestling's biggest star of the '70s, to Hogan, wrestling's biggest star of the '80s. The feud between Roussimoff and Hogan simmered, even as Roussimoff's health declined. [NB: The often-quoted attendance figure of 93,173 is not credible, as it exceeds the 80,311 capacity of the Silverdome; the actual figure is likely in the low- to mid-70,000 range.]
Roussimoff won the WWF title from Hogan on February 5, 1988 in a match where appointed referee Dave Hebner was "detained backstage" and a replacement, his "evil" twin brother Earl, made a three count on Hogan while his shoulders were off of the mat. Roussimoff then "sold" the title to "The Million Dollar Man" Ted DiBiase and the title was vacated. This was shown on the WWF's NBC program "The Main Event" (usually seen Saturdays as "Saturday Night's Main Event"). Andre famously mistakenly called the Federation's Championship the "WWF Tag Team Championship", perhaps foreshadowing his reign with Haku.
At WrestleMania IV, Roussimoff and Hulk Hogan went to a double DQ in a WWF title tournament match. Afterwards, Roussimoff and Hogan's feud died down after a brutal steel cage match held at WrestleFest, on July 31, 1988 in Milwaukee.
He won the World Tag Team Championship with his partner Haku from Demolition, on December 13, 1989. Managed by Bobby Heenan, André and Haku were known as The Colossal Connection. They lost their titles at WrestleMania VI back to Demolition, on April 1, 1990. Roussimoff had a falling out with Heenan and soon left the WWF altogether. He went back to Japan, this time for All Japan Pro Wrestling, where he briefly teamed with owner Giant Baba.
Andre starred in several movies towards the end of his career, most notably as Fezzik in 1987's The Princess Bride. He had a cameo appearance in 1984's Conan the Destroyer as Dagoth, the resurrected horned giant beast, which is killed by Conan, the character portrayed by Arnold Schwarzenegger. In his final film, he appeared in something of a cameo role as a circus giant in the comedy Trading Mom, which was not released until the year after his death.
The disease that granted him his immense size also began to take its toll on his body. By the late 1980s André was in constant, near-crippling pain and his heart struggled to pump blood throughout his massive body. When he was not in front of a camera, he was usually in a wheelchair.
He stopped competing entirely in the very early 1990s due to the increasing pain his illness was causing him, retiring to his winery in France. His heart finally failed him in 1993, and Roussimoff passed away in his sleep at a hotel in Paris while in town for his father's funeral. He was cremated and his ashes were spread over his ranch in Ellerbe, North Carolina.
Legacy
To honor Andre the Giant, the WWF created the WWF Hall of Fame in 1993 and made him their first inductee.
Andre was the inspiration for the 1998 movie My Giant, written by his friend Billy Crystal, whom he had met during the filming of The Princess Bride.
Even in death, Andre was memorable. Due to his immense size, no crematorium in France could accommodate his final wishes to be cremated within 48 hours of his passing. Instead, Andre would lie in state for nearly a week while preparations were made, to include a custom casket. Andre's body was to be flown to North Carolina, and airlines had to reshuffle some schedules and cargo to be able to be under the weight limit with Andre on board. Even his ashes weighed nearly twice that of a normal-sized human's ashes.
Personal Life
While always being referred to as a "bachelor for life," Roussimoff did have a daughter, Robin Christensen, born in 1979, who stands at around 6 feet tall herself, which has been mentioned in some biographies of André. WWE referee Tim White mentioned in the A&E biography of "Andre the Giant" that she lives somewhere in the Seattle, Washington area. Andre also has 2 nephews, Boris and Godefroy.
When Andre was young, he could not fit on a normal school bus and had to be driven to school. As his parents were unable to afford a car of their own so his neighbor, Samuel Beckett, drove him every day.
Wrestling facts
Managers
Bobby Heenan
Ted DiBiase
Frank Valois
Lou Albano
K.Y. Wakamatsu
Tim White
Andre the Giant holding an opponent in the tombstone piledriver position
Finishing and signature moves
Elbow drop
Double underhook suplex
Body Slam
Tombstone piledriver
Big boot
Knife edge chops
Bearhug
Headbutt
Choke
Big Splash
Filmography
The Princess Bride - 1987 - Fezzik
Micki & Maude - 1984
Conan the Destroyer - 1984
The Greatest American Hero-1982
I Like to Hurt People - 1970s
Championships and accomplishments
World Wrestling Federation
1-time WWF World Heavyweight Champion
1-time WWF World Tag Team Champion (with Haku)
WWE Hall of Famer (inducted in 1993) (posthumously)
Other titles
1-time IWA Tag Team Champion (with Michael Nader)
1-time Australasian Tag Team Champion (with Ron Miller)
1-time Tri-State Tag Team Champion (with Dusty Rhodes)
1-time NWA Florida Tag Team Champion (with Dusty Rhodes)
Pro Wrestling Illustrated
PWI named him # 3 of the 500 best singles wrestlers of the PWI Years in 2003.
PWI Editor's Award (1993)
PWI Most Popular Wrestler Award (1977)
PWI Most Popular Wrestler Award (1982)
PWI Most Hated Wrestler Award (1988)
PWI Match of the Year Award, versus Killer Khan (1981)
PWI Match of the Year Award, versus Hulk Hogan (1988)
Wrestling Observer Newsletter
He is a member of the Wrestling Observer Newsletter Hall of Fame (inducted in 1996)
1981 Feud of the Year (vs Killer Khan)
Championship Succession
WWF Championship
Preceded by:
Hulk Hogan
First
Succeeded by :
Vacant
WWE World Tag-Team Championship
Preceded by:
Demolition
First, with Haku
Succeeded by :
Demolition
Video games
Andore from Capcom's Final Fight series looks similar to Andre. Andore is a recurring enemy in the Final Fight series.
In the Street Fighter III series, there is a character called Hugo who is a dead ringer for Andore, the aforementioned Andre-lookalike.
Andre appeared in two video game when he was alive; the original Wrestlemania for the NES, and WWF Wrestlemania Challenge
References
Tributes II by Dave Meltzer, 2004, ISBN 1-58261-817-8, p. 68