Alexander III the Great was born in 356 B.C.E. in Pella, the ancient capital of Macedonia. His father was King Phillip II and his mother was Olympias. From the earliest age his mother taught Alexander that he was a descendent of Achilles and Hercules and so the little boy became focused on being a great ruler.

"Here is the man who was making ready to cross from Europe to Asia, and who cannot even cross from one table to another without losing his balance."

This were the words of his drunk father, who always called Alexander a bastard.
At the age of 13 Alexander was the student of the great Greek philosopher Aristoteles. He learned philosophy, medicine and science and cultivated his interest in reading. Three years later Alexander was called to fight a Thracian rebellion, while his father was away. Alexander was only 20 years old when his father King Phillip was assasinated, so the young men became King of Macedonia. He had a small but efficient army and he was determined to conquer the world. On his campaign he took along with his solders architects, scientists, historians and doctors.
The first war was against the Persians at the Granicus River (today: Turkey). King Darius III had a great army, but Alexander was an intelligent and brave commander and despite being outnumbered about 13 to 1 his army won the fights.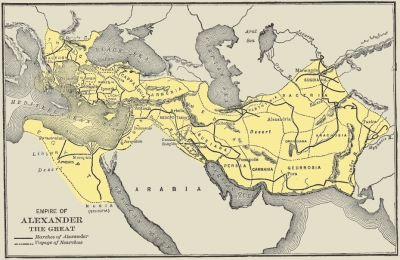 He turned south along the Mediterranean coast, conquered Tyre, than Gaza and than he moved into Egypt, where the people welcomed him, because he was their liberator from the Persian rulers. After a break King Alexander went through Palestina towards the Tigris River. In Gaugamela he met the Persians again. Their King Darius III was later killed by his own people. Alexander went to Babylon and he humiliated the Persians by burning their great palace at Xerxes. After the fight with the Indian Monarch Porus, who had 25.000 solders and 200 elephants, Alexander was victorious again.

Alexander was a great king and a noble man. After the battles he always visited his wounded solders, examining their lesion and praisng them for their courage. For his fallen men he arranged the funerals.
Alexander returned to Babylon, he was now the great Conqueror. In 332 B.C.E. Alexander fell victim to a deadly malady: malarial fever. He was only 32 years old when he died.

Alexander III the Great, the King of Macedonia and the conqueror of the Persian Empire is considered one of the greatest military geniuses in the world history. He was a great source of inspiration for Hannibal, Pompey , Caesar and Napoleon.

Photo source