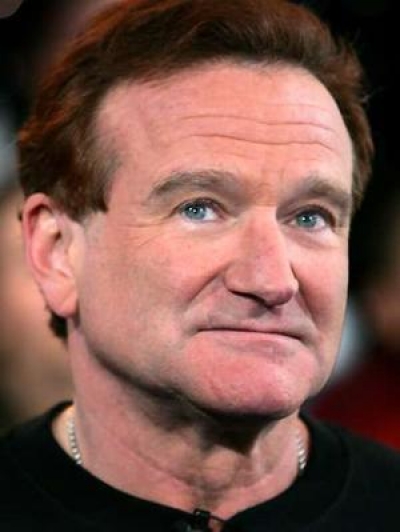 Foto:
1
Biography
Williams was born in Chicago, Illinois, and raised in Bloomfield Hills, Michigan and Marin County, California. His father, Robert Fitzgerald Williams, of English, Welsh, and Irish Protestant descent, was a senior executive at Ford in charge of the Midwest area, and his mother Laurie was a New Orleans-born former model of French descent.
He first achieved notice for his stand-up routines in San Francisco. After studying at Claremont McKenna College (then called Claremont Men's College) with the Strut and Fret theatre group in Claremont, California, and at Juilliard Drama School (where he befriended Christopher Reeve), he was cast by Garry Marshall as the alien Mork in a guest star part in the TV series Happy Days. Mork's appearance was so popular with viewers that it led to a spin-off television series, Mork and Mindy, which ran from 1978 to 1982.
The majority of Williams' acting career has been for cinema, although he has given some memorable performances on stage as well (notably as Estragon in a production of Waiting for Godot). His first starring roles, Popeye (1980) and The World According to Garp (1982), were both flops, but with Good Morning, Vietnam (1987) Williams was nominated for an Academy Award and established a screen identity. Many of his roles have been comedies tinged with pathos (e.g., The Birdcage, Mrs. Doubtfire). In particular, his role as the Genie in the animated film Aladdin was instrumental in establishing the importance of star power in voice actor casting. Later, Williams once again used his voice talents in A.I.: Artificial Intelligence and in the 2005 animated feature Robots.
Williams has also starred in dramatic films. The Academy nominated him for the Best Actor award for his role as an unorthodox and inspiring English teacher in Dead Poets Society (1989). His later dramas included Awakenings (1990) and What Dreams May Come (1998).
In 1997 he won an Oscar as Best Supporting Actor for his role as a psychologist in Good Will Hunting. However, by the early 2000s, he was thought by some to be typecast in films such as Patch Adams (1998) and Bicentennial Man (1999). This apparently prompted Williams to take radically unconventional roles, beginning with the dark comedy Death to Smoochy, followed by One Hour Photo, Insomnia, and The Final Cut.
He is known for his wild improv skills and impersonations. He is a talented mimic and can jump in and out of characters at an extremely fast pace. Williams states that he began doing impersonations as a child, mimicking the Southern accent of his aunt.
Williams' first marriage was to Valerie Velardi on June 4, 1978, with whom he had one child, Zachary. That marriage ended in 1988. He married for a second time on April 30, 1989, to Marsha Garces and they have two children together.
Robin Williams and his wife Marsha Garces Williams founded the Windfall Foundation, a philanthropic organization to raise money for many different charities. Williams devotes much of his energy doing work for charities, including the Comic Relief fund-raising efforts. He is also a cycling fan, known to own hundreds of bicycles and to attend the Tour de France. Through his interest in cycling, he has been a friend and supporter of Lance Armstrong and his foundation, performing at events for the foundation.
Watching his frantic mannerisms and immediate changes in personality, some have speculated that Williams is affected by bipolar disorder, but this has never been confirmed. A more likely explanation for his remarkable creativity and intense impulsive humor may be the reason that he is often referred to as "the poster child for ADD," though this statement is often said with a sarcastic edge.
In a 2005 poll to find The Comedian's Comedian, he was voted one of the top 50 comedy acts ever by fellow comedians and comedy insiders. He was portrayed by Chris Diamantopoulos in the made for television biopic Behind the Camera: The Unauthorized Story of Mork & Mindy (2005), documenting the actor's arrival in Hollywood a struggling comedian and becoming an overnight star when he landed the role in Mork & Mindy.
He will next be seen in Barry Sonnenfeld's R.V. as a family man who ends up in an unlikely competition with another family, headed by Jeff Daniels.
Trivia
Robin Williams has performed in the USO for U.S. troops stationed in Iraq for 3 years. Just days after the start of the Iraq War, Williams performed for American troops stationed in Afghanistan.
He is a Democrat, life-long Episcopalian, and San Francisco resident (he owns a large house in the upper-class Seacliff neighborhood).
After some encouragement from his friend Whoopi Goldberg, he was set to make a guest appearance in the Star Trek: The Next Generation episode, A Matter of Time, but had to pull out due to a scheduling conflict; Matt Frewer took his place as time-traveling con man, Professor Berlingoff Rasmussen.
During the late 1970s and early 1980s, Williams had a serious addiction to cocaine; he has since kicked the habit. A quote attributed to him states, "Cocaine is God's way of telling you that you are making too much money."
He named his daughter Zelda because his son is a devoted fan of the Legend of Zelda video game series.
Williams is a gamer known to enjoy online video games, recently playing Warcraft 3, Half-Life [1] and the first-person shooter Battlefield 2 (see [2]).
On January 6, 2006 he performed live at Consumer Electronics Show during Google keynote (see [3]). At High School he was voted "Least Likely To Succeed".
He appeared on an episode of Extreme Makeover: Home Edition that aired on January 30, 2006. Via a live video link to the De'Aeth family whose house and animal rescue shelter were being made over, he encouraged their son Cody, a budding comedian, and gave the family's shelter a recreational vehicle used in the R.V. movie.
According to the Aladdin DVD commentary, not a single word of his dialogue as the Genie was improvised. He was the voice of The Timekeeper, a former attraction at the Walt Disney World Resort about a time-travelling robot who encounters Jules Verne and brings him to the future.
Williams was a roommate and close friend of late Superman actor Christopher Reeve.
Has stated in an interview for a video game magazine, that Nintendo contacted him once and told him because of his love of video games, if there ever is a live action Pokemon movie made he'd be their first, last and only choice to play Professor Oak.
He once appeared on an episode of Whose Line is it Anyway? During a game of "Scenes from a Hat," the scene "What Robin Williams is thinking right now" was pulled, and Williams stated "I have a career. What the hell am I doing?"
Filmography
Can I Do It 'Till I Need Glasses? (1977)
Popeye (1980)
The World According to Garp (1982)
The Survivors (1983)
Moscow on the Hudson (1984)
The Best of Times (1986)
Club Paradise (1986)
Seize the Day (1986)
Good Morning, Vietnam (1987)
Portrait of a White Marriage (1988) (cameo)
The Adventures of Baron Munchausen (1988)
Dead Poets Society (1989)
Cadillac Man (1990)
Awakenings (1990)
Dead Again (1991)
The Fisher King (1991)
Hook (1991)
I'm From Hollywood (1992) (documentary)
Shakes the Clown (1992)
FernGully: The Last Rainforest (1992) (voice)
From Time to Time (1992) (short subject) (voice)
Aladdin (1992)
Toys (1992)
Being Human (1993)
Mrs. Doubtfire (1993) (also producer)
Nine Months (1995)
To Wong Foo, Thanks for Everything! Julie Newmar (1995) (cameo)
Jumanji (1995)
Aladdin and the King of Thieves (1995) (voice)
The Birdcage (1996)
Jack (1996)
The Secret Agent (1996)
Hamlet (1996)
Fathers' Day (1997)
Deconstructing Harry (1997)
Flubber (1997)
Good Will Hunting (1997)
What Dreams May Come (1998)
Junket Whore (1998) (documentary)
Patch Adams (1998)
Get Bruce (1999) (documentary)
Jakob the Liar (1999) (also executive producer)
Bicentennial Man (1999)
A.I.: Artificial Intelligence (2001) (voice only)
One Hour Photo (2002)
Death to Smoochy (2002)
Insomnia (2002)
The Rutles 2: Can't Buy Me Lunch (2002) (cameo)
The Final Cut (2004)
House of D (2004)
Noel (2004) (cameo)
The Aristocrats (2005) (documentary)
Robots (2005) (voice)
The Big White (2005)
In Search of Ted Demme (2005) (currently in pre-production)
The Night Listener (2006) (currently filming)
Happy Feet (2006) (voice) (currently filming)
R.V. (2006)
August Rush (2006) (currently in pre-production)
The Krazees (2006) (currently announced start of production)
Mrs. Doubtfire 2 (2006) (currently announced start of production)
Night at the Museum (2006) (currently filming)
Discography
Reality...What a Concept (1977)
Throbbing Python of Love (1983)
A Night at the Met (1986)
Pecos Bill (1988)
Live 2002 (2002)