Born on 12 September 1857: George Hendrik Breitner, Dutch Impressionist painter and photographer who died on 05 June 1923.
Breitner was born in Rotterdam. In 1876 he enrolled at the academy in The Hague, Breitner passed the drawing exams within a year. However, he was not enthusiastic about the academy's rather traditional educational principles and within a few years he was expelled for 'unruly conduct'. After moving to Amsterdam, he decided to complete the course at the Amsterdam Rijksacademie. But by now Breitner was a famous artist with his own individual style and his return to college was less than successful. in The Hague. Later, he worked for a number of years in Willem Maris' studio and helped produce the Mesdag Panorama in Scheveningen. In this early period he was especially influenced by the painters of the Hague School.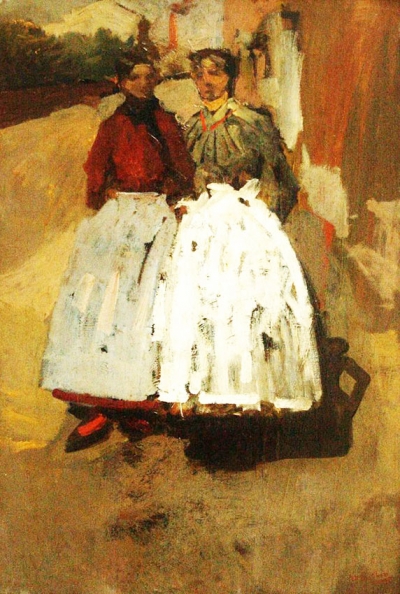 In 1882 he met Vincent van Gogh, with whom he often went sketching in the poorer areas of The Hague. Breitner preferred working-class models: laborers, servant girls and people from the lower class districts. He saw himself as 'le peintre du peuple'. Interest in the lot of the common people, which many artists felt in that period, was nurtured by the social conscience of French writers such as Émile Zola.
Breitner gradually drifted away from the Hague School. In 1886 he moved to Amsterdam, where he recorded the life of the city in sketches, paintings and photos. Sometimes he made various pictures of the same subject, from different perspectives or in different weather conditions. Photos sometimes formed the immediate example for a particular painting, for instance the girls in kimono. On other occasions, Breitner used photography for general reference, to capture an atmosphere, a light effect or the weather in the city at a particular moment.
Breitner painted with a loose brushstroke in an impressionist style. He often worked with Isaac Israels; both painters are counted among the Amsterdam Impressionists. Critics often referred to Breitner's manner of painting as 'unfinished'. But among the younger generation of writers and critics his innovative manner of painting and his Bohemian lifestyle were greatly admired.
— Cornelis Johannes Maks and Floris Verster were students of Breitner.