Born on 14 August 1840: Briton Rivière, British painter, etcher and sculptor, specialized in animal paintings , who died on 20 April 1920.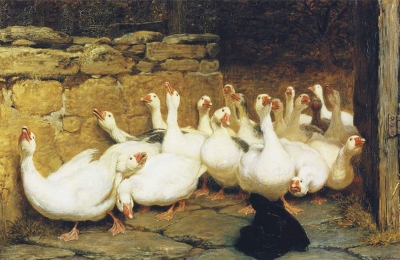 He was born into a family of Huguenot artists, the youngest child of William Rivière (1806–76), with whom he studied. As a child he made sketches at the London Zoological Gardens and his most popular pictures depict animals, especially lions and dogs.

He began to exhibit regularly at the Royal Academy in 1858, but between 1860 and 1863 such paintings as Elaine on the Barge (untraced), influenced by the Pre-Raphaelites, were rejected. The first of his pictures to be engraved (by Frederick Stacpoole) was Charity (exh. RA 1870), but his first popular success came in 1871 with Circe and the Friends of Ulysses, using for models the pigs he kept at his home in Bromley, Kent.

Around 1865 he met and was influenced by a group of Scottish painters in London, including John Pettie and William Orchardson. He adopted their broken-color technique, evident in his work of the 1870s, for example The Last of the Garrison (1875).