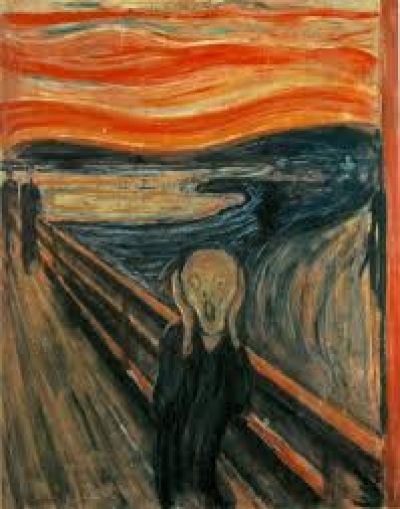 1. When it came to tragedy the famous painter Edvard Munch seemed to have had it all. His mother and one of his sisters died of consumption (and he was afraid for the rest of his days that he would end up the same way), another sister had a nervous breakdown, and his tyranical father often made his life a living hell. In fact Munch often said that "The Scream" was inspired by his own life, and his mature, dark style was marked forever by the shadow of his father. The same father who destroyed some of his early works (nudes especially), called painting an "unholly" choice of for a career, pressured his son into changing his trade, but at the same time sent him some much needed money to support himself. So it was no wonder that eventually Munch himself nearly went crazy and commited willingly into a sanatorium. And just when he was finally making himself known as a painter.
2. Claude Monet truly loved water lilies, and when he began painting them several of his admirers and friends already knew that the artist was also a very passionate gardener. Monet had invested a lot of time, work and money in his garden in Giverny, complete with a pond, so it was the next step to bring water lilies from far away. From very far away. Regardless of the cost Monet ordered varieties of water lilies from South America or Egypt, and proudly made them part of his garden. The neighbours and officials werent't so happy with this new breakthrough. They were convinced that the new species would end up poisoning their drinking water and killing their crops.
3. Surely there isn't anyone who knows something about art and doesn't know American Gothic, one of the most famous works of the 20th century. But did you know that the models weren't strangers, but very close to Grant Wood, the artist? The model for the old lady was no other than his sister, Nan, while the grumpy old man was Byron McKeeby, the painter's dentist.