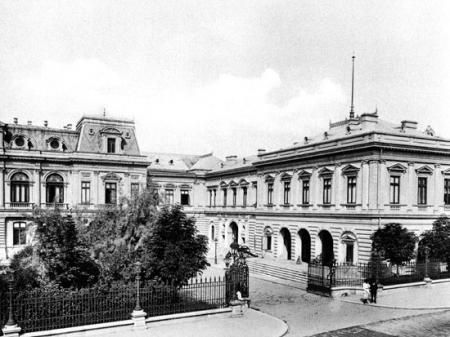 The Royal Palace of Bucharest was built in the years 1812-1815 and it was the Royal Court of Princes Ghica, Stirbei and Alexandru Ioan Cuza. During the revolution of 1848 The Royal Palace became the headquarter of the provisional government. Since 1882 this building was modified and extended.
A great fire destroyed the buiding. The architect D. Niculescu began work on a plan to rebuild it between 1927-1937. During the Monarchy of Carol I here was the throne hall.
Royal Palace is situated in downtown Bucharest, in the middle of other historical buildings such as Kretzulescu Church, Romanian Atheneum, Central Library and Hotel Athenee Palace-Hilton.
In 1948, after the abolition of monarchy, The Royal Palace became the headquarter of the National Museum of Art.
Inaugurated in 1950, the National Gallery hosts the works of famous painters. The most spectacular is the European Gallery, inaugurated in 1951 and composed of 15 salons. Heritage Museum includes also 4,000 drawings and engravings of Romanian and foreign artists famous.
National Museum of Art has three art galleries and a royal history.
European Art Gallery, Gallery of Old Romanian Art, Gallery of Modern Romanian Art sums works exhibited in a modern and attractive way, any visit being a delightful and instructive way to spend time.
Gallery of Romanian Medieval Art contains the most representative heritage of Romanian medieval art, illustrating the evolution of arts in Wallachia, Moldavia and Transylvania, the X-XI centuries until the threshold of the nineteenth century (furniture, textiles, silverware, ceramics, icons, manuscripts, sculpture, mural painting, temples and altars polyptic).
Gallery of Modern Romanian Art, whose wealth brings together works from the collections of former Pinacoteca of the State of museums Simu, Toma Stelian, Kalinderu, from private collections etc., illustrates the evolution of Romanian ainting and sculpture at the end of the XVIII century until the mid-twentieth century. Are presented representative works from the creation of major Romanian artists, such as: painters: Constantin Lecca, Misu Popp, Stefan Luchian, Arthur Verona, Nicolae Vermont, Theodor Pallady, Jean Al. Steriadi, Elena Popea, Dimitrie Ghiata and sculptors: Karl Storck, Ioan Georgescu, Stefan Ionescu-Valbudea, Constantin Baraschi, Boris Caragea, Ion Vlasiu, Ion Irimescu, Ion Vlad, George Apostu.
European Art Gallery includes painting and sculpture works, mostly from the collection of King Carol I and from museums Simu, Toma Stelian, collections of Professor John Cantacuzino, Prof. George Oprescu.
Italian schools are represented by important works by Domenico Veneziano, Antonello da Messina, Giacomo da Ponte Bassano, Jacopo Robusti Tintoretto, Lorenzo Lotto; Spanish school, works by El Greco, Bartolomé Esteban Murillo; Flemish school, shine works by Jan van Eyck, Hans Memling, Pieter Brueghel the younger, Jacob Jordaens, Anthonis van Dyck, Peter Paul Rubens, Frans Snyders and from the Dutch works by Rembrandt and Jan van Goyen; Russian school is represented, among others, by Ivan Konstantinovici Aivazowski; and the French by Camille Pissaro, Auguste Renoir, Paul Signac, Claude Monet, Alfred Sisley. From the sculpture collection, ramerkable are parts of the French school, creations of Jules Dalou, Auguste Rodin, Antoine Bourdelle.
The cabinet of drawings and engravings includes an impressive number of works by Romanian and European graphics, derived mostly from the museum Toma Stelian, and from private collections, like that of Dr John Cantacuzino and acquisitions. The more than 40,000 pieces, original drawings, engravings, lithographs, posters are creations of artists belonging to schools Romanian, French, Flemish, Italian, Dutch, German, English, Spanish, etc.
Department of oriental art holds a wealth coming from countries of the Islamic East (Turkey and Iran) and the Far East (China and Japan), database in general between the XVI-XX century. They are here paintings, sculptures and decorative art pieces, as: collection of carpets, embroidery and clothes, pottery and porcelain, metal vessels, small sculpture in ivory and wood, armor and swords, and a small number of pieces of furniture. Department of decorative art has a wealth representative, in wich we distingue collections of hand-made, along with pieces of furniture, silverware, ceramics, glass.