Participation of Romania at the
14. International Architecture Exhibition – la Biennale di Venezia
Commissioner: Monica Morariu
Deputy Commissioners: Alexandru Damian, Bogdan Tofan
The Romanian participation at the 14. International Architecture Exhibition – la Biennale di Venezia features two projects: Site Under Construction, exhibited in the Romanian Pavilion-Giardini della Biennale and Exploring Identity_the Nomad Archives, exhibited in the New Gallery of the Romanian Institute for Culture and Humanistic Research in Venice.
Site Under Construction
Participants: Mihai Sima, Andreea Iancu, Raluca Sabău, Stejara Timiş, Anca Trestian
Curator
: Mihai Sima
Collaborators: freelance filmmaker Paula Oneţ & Team; photographers: Ioana Cîrlig and Marian Raica (Post-industrial Stories); Oraşul Memorabil (Memorable City) Project
Partners
: National Films Archive, Romanian National Television
Venue
: National Pavilion in Giardini
Opening
: Friday, June 6th 2014, 3.15 pm
In Eastern Europe the assimilation of modernism proved a rather divergent process, correlated with tumultuous and contradictory socio-political events. The urban space suffered successive destructions caused by massive industrial insertions with direct impact at urban and demographic level.
Thus the project brings into discussion the industrial architecture as generator of modernity, creating an initiatory journey from inter-war and socialist industrialization to post-industrial urban voids. Glory and void, past and present are mirrored and laid out to be contemplated, to raise awareness and be re- approached. Once industrial sites were closed down, the remaining locations became modern urban ruins, devoid of content, bare of utility, leaving behind an outer landscape, shattered and desolate.
The exhibition reflects the mega-space of the contemporary city, seen as an imperceptible black box without definite outlines. The city web consists of three urban isles, animated by video projections showing cinematographic sequences of the industrial past. These isles, reminding of Tarkovskian zones, reveal an atypical universe. Inside the isles you enter a different type of space, the void of post-industrial present, represented by a light tower, an industrial analogy, aiming at the figure of the cooling towers, stretching towards eternity. Towers are places of reverie, personal experience, pure, lacking conditioning or outer stimuli. The exhibition space is flexible, with a double inner signification, a conflicting and sensuous mix brought about by the opposing proportion between darkness and light, sound and silence.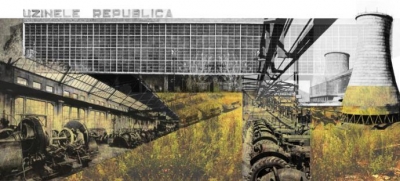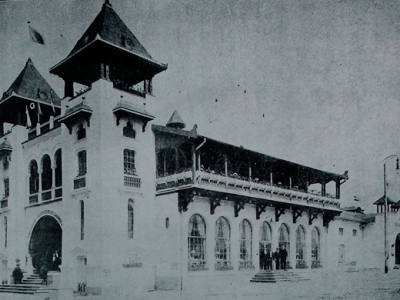 Exploring Identity_the Nomad Archives
Participants: Emil Ivănescu, Laura Iosub, Olivia Zahalca, Carmen Tănase, Loredana Mihali, Marius Danciu Curator: Emil Ivănescu
Assistants of the curator: Laura Iosub, Carmen Tanase, Marius Danciu
Collaborators: Elvira Pietrobon (architect), Eliza Culea (architect), Vlad Mitea (architect), Alexandra Lăzărescu (architect), Ema Bogoi(architect), leana Săvescu(architect)
Venue: New Gallery of the Romanian Institute for Culture and Humanistic Research
Cannaregio 2214 – 30121 Venice
Opening
: Friday, June 6th 2014, 6.30 pm
The nomad archive is a methaphor of the global nomad architect who works everywhere in the world but brings inside of himself, subjective architecture archives which combines history with the present day, modernist feelings with traditionalist melancholy.Between an official discourse of identity and an unintentionally one, archictecture captures the hard exhibit of all this identity processes. Modernity as identity expresses the beginings of a culture sincronic with its times.Between traditionalism and avant- garde, Orient and Occident, the Romanian Modernism is first an identity experiment, an epidermic phenomenon. The research proposes two mix topics, one about the national pavilions as official process of identification and, the other, about trans-architectures as modes of identity suspension and transgression. The source of the research are the Archives of Romanian Architecture Press from the year 1906 till today. The installations are dedicated to Nicolae Iorga, the traditionalist humanist who initiated the Romanian Venice Pavilion in Giardini, and to Tristan Tzara, the avant-garde DADA founder, who defines the culture of diaspora. Both tradition and avant-garde makes a complete panorama of Romanian modernity all along the XXth century. In order to tell the story, we invite visitors to make a neuroarchitecture experiment inside the pavillion: how much of your brain is traditionalism and how much is modernism _ both an ironic and a science performance
Organisers
:
Ministry of Culture of Romania
Ministry of Foreign Affairs of Romania
Romanian Cultural Institute
The Union of Architects of Romania
Romanian Institute for Culture and Humanistic Research in Venice
Supporters
:
Ministry of Culture of Romania
Romanian Cultural Institute
May 2014