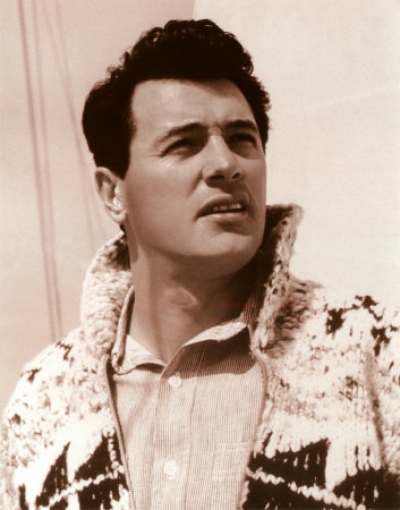 Biography
Hudson was born Roy Harold Scherer Jr. in Winnetka, Illinois. He was later adopted and acquired the name Roy Fitzgerald. He served in the United States Navy during World War II as an airplane mechanic. His good looks and strapping size got him a Hollywood audition; capped teeth and a name change got him a small part in the 1948 film Fighter Squadron. In 1956 he was nominated for an Academy Award for Best Actor for his performance in Giant, and two years later, Look Magazine named him Star of the Year.
During the 1950s and 1960s, Hudson was known for three 'bedroom farces' co-starring Doris Day. The two made Pillow Talk, Lover Come Back and Send Me No Flowers together. After his death, fans would note the irony in the fact that in both Pillow Talk and Lover Come Back Hudson played a straight man who would pretend to be girl-shy or even gay in order to get a woman into bed; and in Send Me No Flowers, he played a middle-aged husband who believed he had a medical condition with only a few months to live.
Many consider the finest performance of his career to be that of the young Malibu painter Tony Wilson into whom the elderly New York City banker Arthur Hamilton is transformed in John Frankenheimer's 1966 science fiction film Seconds. The film, ahead of its time, and lacking the usual glossiness expected of a Hudson film, was a box office flop.
From 1971 to 1978, Hudson starred opposite Susan Saint James, with whom he did not get along, in the popular American television series McMillan and Wife that aired on NBC. There was speculation at the time that Hudson was furious to learn that the well-connected Saint James received a higher salary than he did.
Hudson met Phyllis Gates when she was a secretary for his agent and married her in 1955. It is thought the studio used this sham marriage in order to cover Hudson's homosexuality, which would have been a liability at the box office if it were known to the public. Although Gates insisted that, for her, the marriage was real, she claimed she eventually learned that the romance had been arranged to dispel rumors that Hudson was gay. Not everyone was convinced that Gates was as naive as she seemed [1], [2]. The couple divorced in 1958, and Gates said that she never saw Hudson again. Phyllis Gates died on January 4, 2006, of lung cancer complications.
Hudson never publicly acknowledged his homosexuality. However, it was widely rumoured by the early 1980s. When journalist Boze Hadleigh asked him, "Rock, do you think you were born gay?" the actor smiled and said, "Probably. But only after I came out of the womb!" In a late press release, he speculated that he got AIDS from multiple blood transfusions he received when he had undergone a heart bypass. At the time of his operation, blood was not tested for the not-yet-known HIV antibody.
After Hudson's death, Doris Day, widely thought to be a close off-screen friend, said she never knew he was gay. Carol Burnett, who often worked on television and in live theater with Hudson, was a staunch defender of her friend, telling an interviewer that she knew about his sexuality and didn't care.
Following Hudson's death, his partner Marc Christian filed a palimony lawsuit against his estate and won on the grounds of emotional distress caused by Hudson's failure to reveal his positive HIV status.
Hudson has a star on the Hollywood Walk of Fame at 6104 Hollywood Boulevard.
After his death, Hudson was cremated and his ashes buried at sea.
References in Television
A picture of Rock Hudson is shown in The Andy Griffith Show episode "Aunt Bee's Medicine Man" when in the opening sequence Barney Fife (Don Knotts) is combing his hair.
Hudson made a guest appearance on I Love Lucy when Lucy goes to Hollywood.
Rock Hudson made some guest appearances on the Dick Van Dyke Show in its late run.
A Rock Hudson clone is mentioned in the two-part season-finale of Clone High. Rock Hudson takes Marie Curie to prom instead of Mahatma Gandhi, but Gandhi ends up with Curie and Rock is never seen again.
Filmography
Fighter Squadron (1948)
Undertow (1949)
One Way Street (1950)
I Was a Shoplifter (1950)
Peggy (1950)
Winchester '73 (1950)
The Desert Hawk (1950)
Shakedown (1950)
Tomahawk (1951)
Air Cadet (1951)
The Fat Man (1951)
Bright Victory (1951)
Iron Man (1951)
Bend of the River (1952)
Here Come the Nelsons (1952)
Scarlet Angel (1952)
Has Anybody Seen My Gal? (1952)
Horizons West (1952)
The Lawless Breed (1953)
Seminole (1953)
Sea Devils (1953)
The Golden Blade (1953)
Gun Fury (1953)
Back to God's Country (1953)
Beneath the 12-Mile Reef (1953) (narrator)
Taza, Son of Cochise (1954)
Magnificent Obsession (1954)
Bengal Brigade (1954)
Captain Lightfoot (1955)
One Desire (1955)
All That Heaven Allows (1955)
Never Say Goodbye (1956)
Giant (1956)
Written on the Wind (1956)
Battle Hymn (1956)
Something of Value (1957)
A Farewell to Arms (1957)
The Tarnished Angels (1958)
Twilight for the Gods (1958)
This Earth Is Mine (1959)
Pillow Talk (1959)
The Last Sunset (1961)
Come September (1961)
Lover Come Back (1961)
The Spiral Road (1962)
Marilyn (1963) (documentary) (narrator)
A Gathering of Eagles (1963)
Man's Favorite Sport? (1964)
Send Me No Flowers (1964)
Strange Bedfellows (1965)
A Very Special Favor (1965)
Blindfold (1965)
Seconds (1966)
Tobruk (1967)
Ice Station Zebra (1968)
A Fine Pair (1969)
The Undefeated (1969)
Darling Lili (1970)
Hornets' Nest (1970)
Pretty Maids All in a Row (1971)
Once Upon a Dead Man (1971) (TVM)
"McMillan and Wife" (1971-1977) (TV series)
Showdown (1973)
Embryo (1976)
"Wheels" (1978) (TV miniseries)
Avalanche (1978)
"The Martian Chronicles" (1980) (TV miniseries)
The Mirror Crack'd (1980)
The Star Maker (1981) (TVM)
World War III (1982) (TVM)
"The Devlin Connection" (1982) (TV series)
The Ambassador (1984)
The Vegas Strip War (1984) (TVM)
"Dynasty" (1984-1985) (TV series)