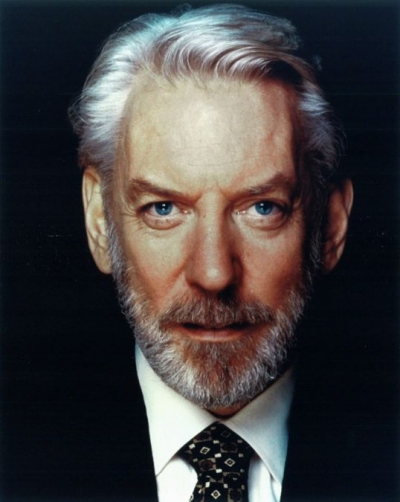 1. Donald Sutherland: he seems to enjoy every little role he ever played, and gives his very best every time, even if he is already near the 200 landmark. He played in dramas and box-office failures or hits, he was Paul Gauguin or used his charisma and stage presence in horror and action movies, television series and forgottend almost cult-movies, he became famous due to his devotion and intensity. Every single time.
2. Christopher Lee: Dracula, Rasputin, Frankenstein, The Mummy (and so on for the legendary Hammer Studios), he was in Star Wars and Lord of the Rings, he worked with Tim Burton and played Sherlock Holmes in several occasions, and no matter how small the part he seemed to dominate the entire scene. He was in horror movies, dramas, fantasy, box-office hits and financial failures, funny movies and sad movies, television and video games, and even found the time, when he was well into his final years, to record several heavy metal albums. With over 190 roles in his life this fine gentleman could hardly find and equal.
3. Mickey Rooney: When Hollywood was still making it's baby steps towards an universal phenomenon and industry, this amazingly talented child actor was there for the taking. And the charismatic Mickey Rooney surely knew how to take it, and throughout his career the starred in several hundred movies. All in all over 330 roles, ranging from being the main hero to a short appearance, especially in the last part of his life. Not bad? Simply amazing.
4. Ernie Hudson: with over 220 credit to his name, ranging from cult-movies to forgotten productions and a wide array of television series and pictures, this is one actor who is popular, even if most of his roles were rather small ones, yet important for the whole story. Some might remember him from the Ghostbusters duology, others from The Crow or the Oz series, and even if you just can't remember his name, you surely know his face. A great example of how doing your job right, no matter how small, pays up in the end.
5. Robert Loggia: you believed him and even feared him no matter what his role was, for he was always convincing and strangely charismatic. With over 230 roles, ranging from Mafia bosses to strange horror characters, TV series and movies, drama and comedy, police mysteries and all kinds of scripts, Robert Loggia was always there to make the movie better. A prolific actor for sure, but also a great and memorable one.
Photo: harthouse.hackinghistory.ca