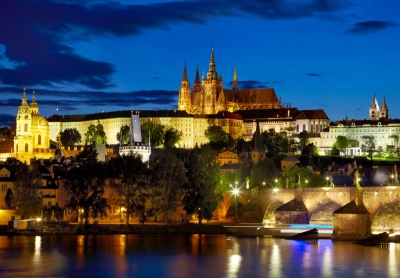 1. The Prague Castle is maybe the most famous, impressive and visited of the city's sights, and according to the Guiness Book of World Records it is the largest ancient castle in the whole world, being actually a complex of buildings covering over 70,000 square meters. Starting as a wooden fortress, the huge ensemble might seem today more of a small city than a castle, and with is't long history, spread over several centuries, the Prazsky hrad is a world in itself.
2. And there is a strong connection between The Rolling Stones, the famous rock band, and the most beloved place in Prague. The group was one of the first major acts to play in Prague after the Velvet Revolution of 1989, and were more than impressed with the monuments, atmosphere and charm of Prague, but especially with the castle. So when they found out from the president of the country, Vaclav Havel, that the Prague Castle didn't have any lights at night because it would be difficult and costly they stepped in. Not only the band paid for new and modern lights for the whole complex, turning the castle into a night time spectacle, but they also provided Prague with the team to prepare and install the whole lighting system. One could say that Mick Jagger was really a friend of Prague.
3. While about 1.2 million people live in the Czech capital every year over 6 million tourists from all over the world come here to nejoy it's rich history, monuments and sights, making this place one of the most visited European cities. And according to recent data not only this number is going to stay over the next years but specialists think that it would only grow as many more chose Prague for their trips and holidays.
4. Another very popular place in Prague is the so-called John Lennon Wall, which can be found close to the Charles Bridge and it began as a homage after the killing of the musician. In 1980 when the former Beatle was shot by Mark Chapman the impact was huge all over the world, and Prague was no different. So various enthusiastic young artists began painting various scenes, portraits of Lennon, messages and lyrics, and while several times the Communist authorities tried to put a stop to it the project survived. You can still see this touching tribute to John Lennon, and new portraits and creations are added and painted over year after year. Think of it as an art gallery outside of a conventional building.
5. While in Prague you must try one or several of local beers, as beer is the most popular drink here. But more than that, the locals actually drink every year about 150 liters of beer, which is more than anywhere else in the world.
Photo: praguego.com