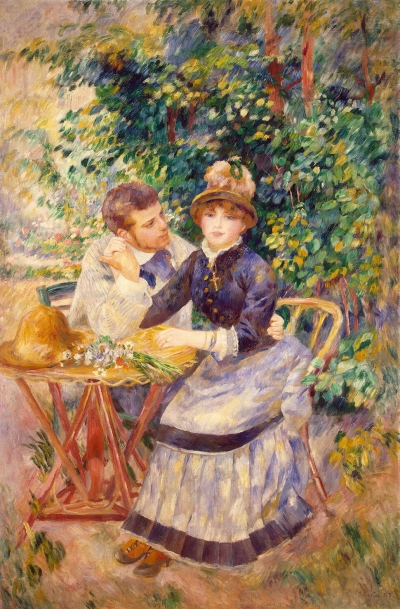 1. Renoir began working when he was rather young, and it would be a long time until critics and the general public were convinced of his importance and talent. Not to mention the fact that he was a prolific, original and totally dedicated artist, yet in the beginning and even somewhat later in life he was often at lost for supporters and buyers of his works. At first he worked in a porcelain factory as a boy, considering this apprenticeship one of the most important experiences of his life, as everyday he had to paint small, delicate, complicated and very precise models upon the products. As most of the other Parisian artists he would also be a regular at the Louvre, copying the works of great masters.
2. Pierre-Auguste Renoir contributed to the very first Impressionist exhibition in 1874 with no less than six works, but he couldn't have predicted that this important moment in art history would not be so well received by the public. Many didn't like the new manner of painting, and the critics weren't impressed (most of them), but for Renoir it was the moment that would simply change his life and convinced him that this was much more than just a hobby, it was his true calling.
3. Renoir met several of the artists we nowadays think of as hugely influential - such as Claude Monet, who was also a personal friend - but he was more than impressed when meeting Richard Wagner, the famous composer. Not only Renoir met the musician during his travels through Europe, but he was an admirer and also painted an interesting portrait, one of the very best depicting Wagner.
4. While most of the artists used professional models (and often started a relationship) Renoir chose to do things differently. After getting married he used more and more his wife and children as models.
5. Aside from the artists of his time Renoir was a great admirer of Raphael, Velasquez or Delacroix, and during his travels would search out their works in museums, often making copies and spending literally hours admiring those, trying to discover those small details, secrets and maybe ignored elements that would prove at the same time to be definitory and inspiring.
Foto: wikipedia.org