CRITICAL BOTOX in times of 2.0 feudalism
October 04, 2012 – January 06, 2013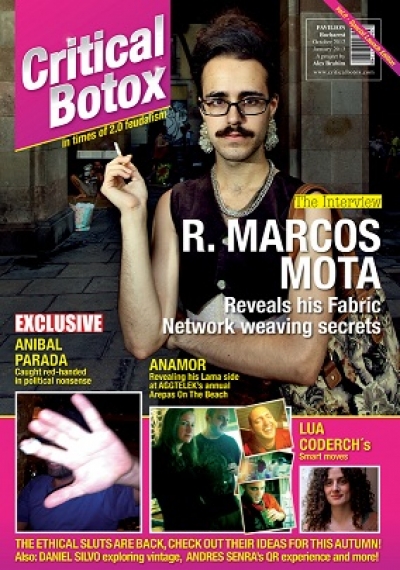 PAVILION
, Sos. Nicolae Titulescu no. 1 (Piata Victoriei), Bucharest
Opening:
Thursday, October 4, 2012, 19.00
Curator:
Alex Brahim (CO/ES)
Participants:
Aggtelek (ES/BE), Anamor (ES), José Begega (ES), Karmelo Bermejo (ES/MX), Zeljko Blace (BA/HR), Bruce LaBruce (CA), Lúa Coderch (PE/ES), Andrés Duplat (CO), Juan Pablo Echeverri (CO), Félix Fernández (ES), Jorge García (ES), Miquel García (ES), Andrea Gómez (CO/ES), Núria Güell (ES), Fermín Jiménez Landa (ES), Lydia Lunch (US), Santiago Monge (CO), R. Marcos Mota (ES), Joan Martí Ortega (ES), Daniela Ortiz (PE/ES), Aníbal Parada (AR/ES), Avelino Sala (ES), Andrés Senra (ES), Daniel Silvo (ES), Toni Tena (ES), David Latorre (ES), Oriol Vilanova (ES)
CRITICAL BOTOX In times of 2.0 feudalism uses a fictional narrative line, a faux gossip magazine, to take its real form as an online process-publication and series of exhibitions, the first of which will take place on October 2012 at Pavilion in Bucharest.
"The project is based on the framework of personal, presential relationships that the curator sustains with the artists, whose work is in turn linked, from several thematic axes and production formats, to the political. Understood as a political practice in itself, CRITICAL BOTOX claims the political value of direct human contact in these trying times of virtualization and dehumanization in co-individual interaction.
The online publication uses the aesthetic of gossip magazines as visually distracting sophism, focusing on the reality of the content, the political interests of the work and artist trajectories. It serves, in this way, as a bridge to the different sites and recourses facilitated by the artists to a public that would be interested in exploring each of them. The textual contents emerge from a standard interview answered by all participants.
Each exhibit functions as a sample set of the microcosms implied within this publication. They would also act as a reflection of the heterogeneity in visions and attitudes that stem from contemporary artistic creation to encompass the wide spectrum of the political conditions in a globalized world." (Alex Brahim)
This exhibition at Pavilion shall be accompanied by a printed publication: a fold-out poster with the general structure of the project, a graphic illustration of the relationship framework in CRITICAL BOTOX and texts by guest authors. The graphic design for this project will be handled by Barcelona based studio Los Trini.
Alex Brahim (Cúcuta, Colombia, 1977) is an Independent art curator and cultural projects manager based in Barcelona. His work encompasses theory, production, programming, communication and activism and is centered in the transversality of networks with an emphasis in cultural codes and their critical spaces of negotiation. He co-directs, along with marketing expert Tania Brett, DIBINA (Digital Büro of International Art), an independent curatorial, cultural management and relational communication platform. One of their highlights is the management and coordination of the program for the Antigua Casa Haiku art space in Barcelona (2008-2011). He regularly prepares independent and commissioned programs and exhibitions, collaborates with different media and is guest lecturer in different art centers and universities. He has developed projects at La Casa Encendida, Madrid; CCCB, Barcelona; Matadero, Madrid; La Capella, Barcelona; Espai Cultural Caja Madrid, Barcelona; Museu de l'Empordà, Figueres; Loop, Barcelona, or Off Limits, Madrid, among others. He is currently one of the jury members and tutors for the Barcelona annual contemporary arts grant BCN Producció, as well as a consultant for the development of the Art Production Factories Program of the Ajuntament de Barcelona (City Hall). Critical Botox is his first curatorial full project abroad.
www.criticalbotox.com
FB event: http://www.facebook.com/events/287107844722209/
Exhibition supported by PAVILION – journal for politics and culture - www.pavilionjournal.org
All connected events are generated by REFORMA - www.re-forma.ro
After opening party:
REFORMA SMOKE OUT
Joi 4 octombrie 2012, 22.00
@ Control Club
Constantin Mille 4, Bucuresti
Intrarea libera
www.re-forma.ro
With Bogman and his very special and surprize guest.
Projections from before '89 cartoons.